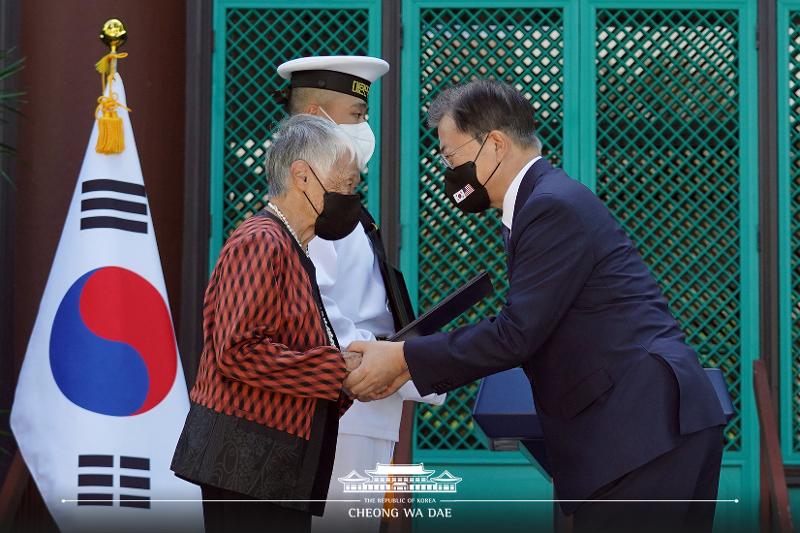 By Kim Eun-young and Yoon Sojung
Photos = Cheong Wa Dae's official Twitter account
President Moon Jae-in on Sept. 22 in Hawaii posthumously awarded the Order of Merit for National Foundation to two patriots who supported the Korean independence movement in Hawaii.
At the Center for Korean Studies of the University of Hawaii, Honolulu in the morning, the president bestowed the honor to the descendants of Kim No-di and Ahn Jung-song, two Korean immigrants in the U.S. confirmed to have helped the independence movement while living in Hawaii.
This was the first time for a Korean head of state to present such an award while abroad to independence activists.
In 1903, 102 Koreans moved to Hawaii as Korea's first immigrants to the U.S., and later actively helped raise funds to help Korean liberation from Japanese colonial rule. The center that hosted the ceremony was the first Korean studies institute founded abroad and is the biggest of its kind in the U.S.
Kim in 1919 delivered a stirring appeal for Korean independence at the first gathering of Koreans in the U.S. in Philadelphia. As a member of the Korean Ladies Relief Society, the activist also promoted women's rights by exposing Japan's abuses of women.
Ahn, who received the order's National Medal, took the lead in raising funds for the independence movement and educating Koreans overseas. After national liberation, Ahn helped the setup of the Korean government as a member of the United Korean Committee in America Mission.
The Order of Merit for National Foundation has five grades: the Republic of Korea, Presidential, Independent, Patriotic and National medals.
The decision to honor both patriots was made on March 1 (March First Movement Day) this year. President Moon presented the medals in person to the awardees' descendants during his Hawaii visit.
At the ceremony, he expressed his deep respect and appreciation for the two patriots for their devotion to the independence of their homeland and the education of their people.
The president added that he deeply pondered their actions and "noble patriotic spirit."
Later that day, he observed the repatriation of the remains of Korean and American troops killed in the Korean War at Hanger 19 of the U.S. military's Joint Base Pearl Harbor-Hickam in Hawaii.
This is the first time for a Korean head of state to directly oversee a ceremony abroad for the transfer of the remains of soldiers killed in the war.
The remains of 68 Korean soldiers will return home with President Moon, who on the same day will wrap up his trip to the U.S. and fly home. The transfer will also see the remains of six American soldiers returned to the U.S., including one set that was repatriated in 2018.