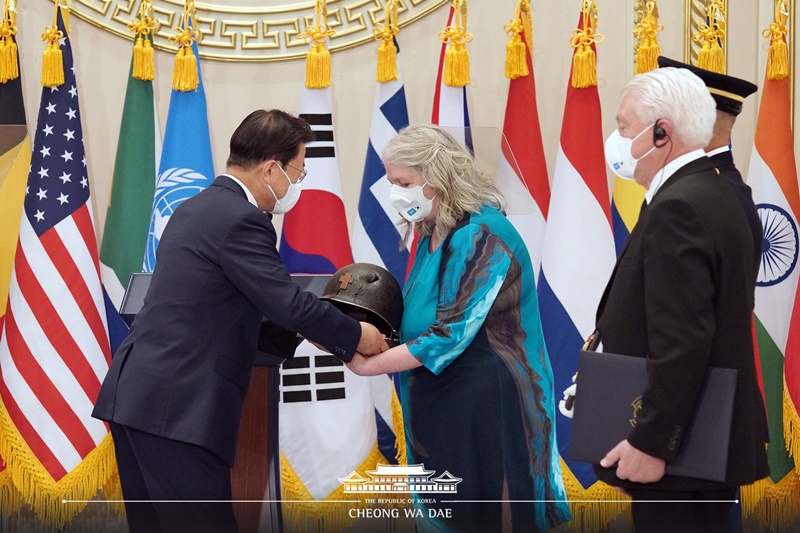 By Jung Joo-ri and Yoon Sojung
President Moon Jae-in on July 27 became the nation's first head of state to award national medals to Korean War veterans who served with United Nations (U.N.) forces.
At an awards ceremony to mark U.N. Forces Participation Day at Yeongbingwan State Guest House of Cheong Wa Dae, he presented the Taegeuk Order of Military Merit to Raymond Emil Kapaun, who accepted the honor on behalf of HIS late uncle, U.S. Army Chaplain (Capt.) Emil Joseph Kapaun, a Roman Catholic priest who died in 1951 at a prisoner-of-war (POW) camp.
The president also honored Australian Brigadier Gen. Colin Nicholas Khan with the Order of Civil Merit, Seogryu (Pomegranate) Medal.
The honors were received by the two veterans' descendants: Kapaun's nephew Raymond and Khan's great-grand niece Katherine Elisabeth Khan.
President Moon said the chaplain was called "Jesus of the Korean War" as he voluntarily stayed on the battlefield to do his duty as a military priest and died while a POW.
Describing the discovery of the chaplain's remains at the National Memorial Cemetery of the Pacific in Hawaii in March this year, 70 years after his death, as being "like a miracle," President Moon said, "I hope that today's medal provides warm encouragement to his bereaved family and many of those who carry on his spirit."
On Gen. Khan, the president said that as a platoon commander for the 1st Battalion of the Royal Australian Regiment, Khan "narrowly escaped death from a serious injury" and "was at the forefront of the efforts to promote Korea's development, crisscrossing Australia."
"We will long remember the General and other Australian war veterans who fought side by side with Korean troops during the war and have been of a great help with our post-war recovery," the chief executive added.
Kapaun's nephew told the president that the medal is a reminder of how deeply the Korean people appreciate Korean War veterans and those who died in the conflict.
Khan's great granddaughter Imagine Paige Smith said in Korean that she was honored to attend the ceremony on behalf of her great grandfather, whom she said deeply regretted being unable to come due to COVID-19. She thanked the president for giving her great grandfather such a glorious award and honor.
On the occasion of the 68th anniversary of the armistice that stopped fighting in the Korean War and the ninth annual U.N. Forces Participation Day, the president said he was the nation's first leader to fulfill "this glorious mission" of awarding the medals.