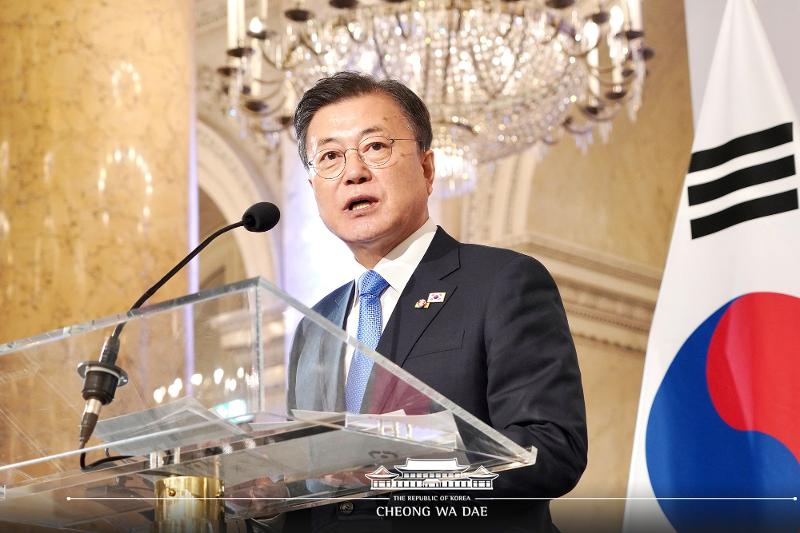 By Jung Joo-ri and Lee Jihae
Photos = Cheong Wa Dae's official Facebook page
President Moon Jae-in on June 14 said during a state visit to Austria that his administration will "actively" push for cooperation in vaccine supply to North Korea if the latter agrees.
In a news conference at the Hofburg, the official residence in Vienna of Austrian President Alexander Van der Bellen, after holding a summit with the latter, President Moon made the statement when asked about vaccine support for the North.
If Korea assumes a role as a global production hub, President Moon said, the North would certainly be a partner for cooperation, adding that the U.S. also actively supports humanitarian cooperation with Pyeongyang.
President Van der Bellen said that though he does not know the North's stance, Austria will certainly help if a signal appears.
The two leaders held comprehensive talks on bilateral relations, global issues such as climate change and the environment, and the state of the Korean Peninsula and the world.
In science and technology and future high-tech industries, both presidents agreed to continue cooperating to combine Austria's science and technology with Korea's world-class skills in commercialization and industrialization to produce mutually beneficial results.
On responding to climate change, the two leaders discussed solutions to pressing international challenges and agreed on close cooperation to achieve a carbon neutral vision.
President Moon explained the recent situation on the peninsula and the government's efforts to set up peace in the region. He asked Austria, a world leader in disarmament and nonproliferation, to continuously support and cooperate with Korea.
As the first Korean leader to visit Austria, President Moon also invited his Austrian counterpart to visit Korea next year, which will mark the 130th anniversary of bilateral ties.
After the summit, President Moon moved to the office of the Austrian chancellor right across the Hofburg for talks with Chancellor Sebastian Kurz.
President Moon and the chancellor agreed that their two nations have steadily improved their friendly and cooperative relations over the past 129 years based on mutual trust and values, pledging to elevate bilateral ties to the level of a strategic partnership.
In a joint news conference after the summit, Chancellor Kurz, when asked by an Austrian reporter what their country should learn from Korea, a "champion" of overcoming COVID-19, the chancellor began his answer by saying Korea has succeeded in this aspect as is known.
Korea's application of data collection and analytics technology helped it overcome COVID-19, he said, adding that by utilizing data in the health and welfare sector that is connected to future technology, Austria can succeed like Korea.