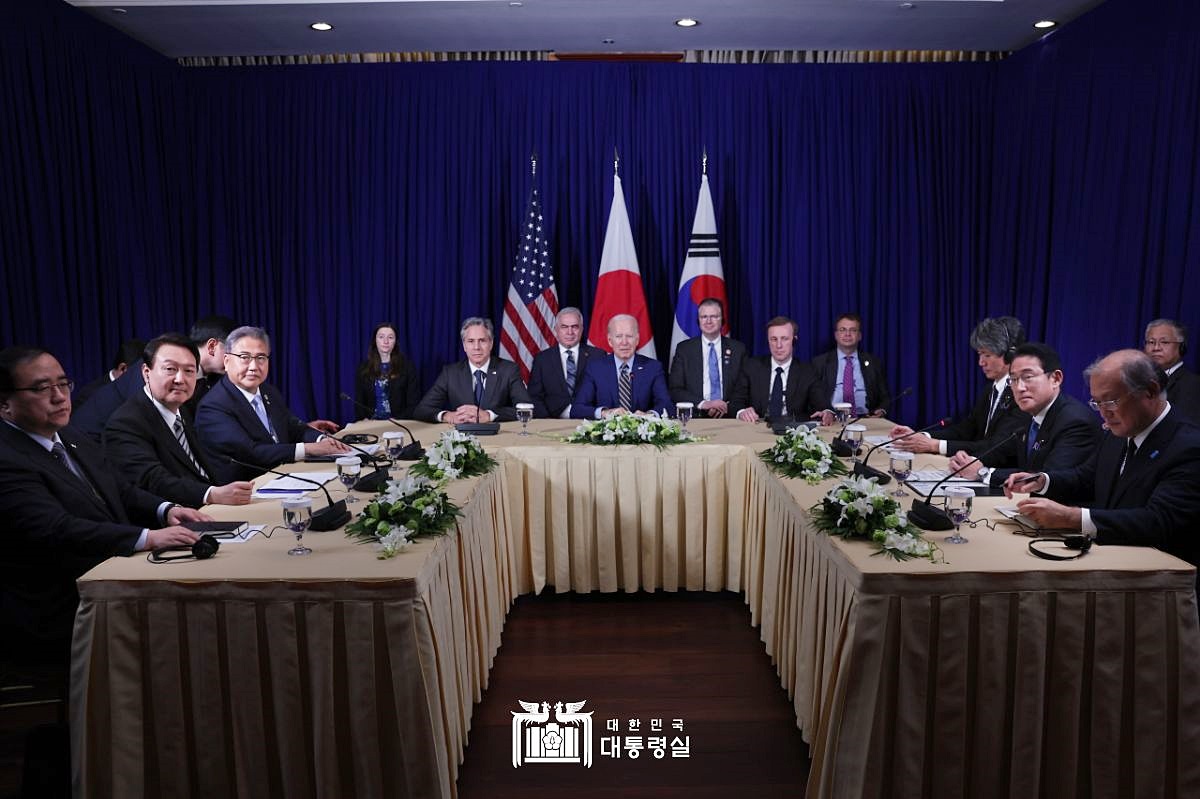 By Xu Aiying

President Yoon Suk Yeol from May 19-21 will attend the summit of the Group of 7 (G7) economies in Hiroshima, Japan.

Kim Tae-hyo, Principal Deputy National Security Advisor of the National Security Office, on May 14 at a news briefing at the presidential office in Seoul released President Yoon's itinerary.

"President Yoon is the fourth Korean head of state to attend the G7 summit," the official said. "He is scheduled to attend and speak at the extended summit featuring various global agenda as its theme."

"At the extended summit, the heads of the G7's invited countries and international organizations will discuss topics such as food and health, climate and energy development," he added. "In particular, free discussions are scheduled on issues prioritized by this year's chair country such as the global order based on rule of law and policies related to emerging and developing economies."
Visiting Hiroshima at the invitation of this year's chair country Japan, President Yoon will hold bilateral summits with leaders of G7 member states and invited countries on the sidelines of the summit.

He will also hold trilateral talks with U.S. President Joe Biden and Japanese Prime Minister Fumio Kishida.
This will be President Yoon's third joint summit with the U.S. and Japan since the first in June last year and the second that November.

On the upcoming talks with Washington and Tokyo, Principal Deputy National Security Advisor Kim said, "It will be held after two summits with Japan that opened a new era in Korean-Japanese relations and President Yoon's state visit to the U.S.," adding, "Strategic cooperation measures will be discussed to upgrade a notch the cooperation of Korea, the U.S. and Japan to allow response to joint challenges such as North Korea's nuclear and missile threats, instability in regional supply chains and the energy crisis."
Under an agreement reached in their May 7 summit in Seoul, President Yoon and Prime Minister Kishida will visit a memorial stone at Hiroshima's Peace Memorial Park to honor Korean victims of the 1945 atomic bombing of the city.

"If the visit materializes, this will be the first time that the leaders of both nations went there together," the deputy director said. "This will also be the first time for our leader to visit the memorial stone."
"The visit by both leaders will comfort Korean victims of the past atomic bombing on Hiroshima and serve as a place for both Korea and Japan to prepare a future of joint peace and prosperity."
xuaiy@korea.kr