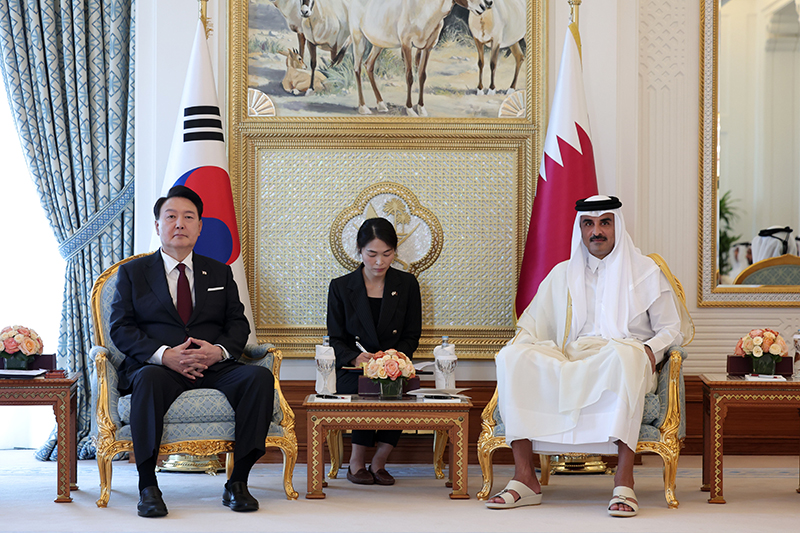 By Yoon Seungjin
Photos = Kim Yong Wii from Office of the President

President Yoon Suk Yeol, on a state visit to Qatar, on Oct. 25 held a summit on bilateral cooperation with the Arab country's Emir Sheikh Tamim bin Hamad Al Thani at the latter's official office of Amiri Diwan in Doha.

The Office of the President in Seoul said both leaders discussed a range of options on boosting bilateral relations, which have steadily developed since they were formed in 1974 centered on liquefied natural gas (LNG) and construction.

"I consider it meaningful to be the first Korean leader to make a state visit to Qatar ahead of the 50th anniversary of diplomatic ties next year," the president said after thanking Qatar for its hospitality. "Korea will remain a strong partner as Qatar pursues its national development through its National Vision 2030."
"Qatar believes that developing its relations with Korea, a key cooperation partner, is all too natural and urgent," Emir Tamim said in response. "For this, we expect close communication and cooperation with President Yoon Suk Yeol."
On the occasion of their summit, both leaders decided to raise the level of bilateral relations from a "comprehensive partnership" to a "comprehensive strategic partnership." The upgrade means more communication channels in diplomacy and national security and boosts cooperation in related fields under a memorandum of understanding (MOU) signed the same day on cooperation in the defense industry and military affairs.

In addition, Korea's HD Hyundai Heavy Industries signed a deal with the public company QatarEnergy to build 17 LNG carriers for USD 3.9 billion, the largest single contract in Korean shipbuilding history. The two countries will bolster cooperation in the front and rear industries of LNG including the construction, running and maintenance of carriers.
The two leaders also agreed on higher cooperation in areas of mutual interest like infrastructure, investment, agriculture, shipping, culture, human exchange and health and seek tangible benefits for the people of both countries through joint programs.
"Qatar needs Korea's world-class technology and operating systems to run ports and airports, develop agriculture (food security), build comprehensive data service centers and provide medical services," Emir Tamim said. "With a small population and heavy reliance on foreign labor, Qatar seeks close cooperation with Korea in automating infrastructure operations."

President Yoon responded by saying, "IT power Korea will continue cooperation with Qatar in all sectors."

At the MOU signing ceremony immediately after the summit, five deals in the following sectors were signed with the two leaders watching: cooperation in smart farms, high-tech collaboration in construction and architecture, a joint project in national spatial information, mutual efforts for small and medium venture companies, and a framework for trade and investment promotion.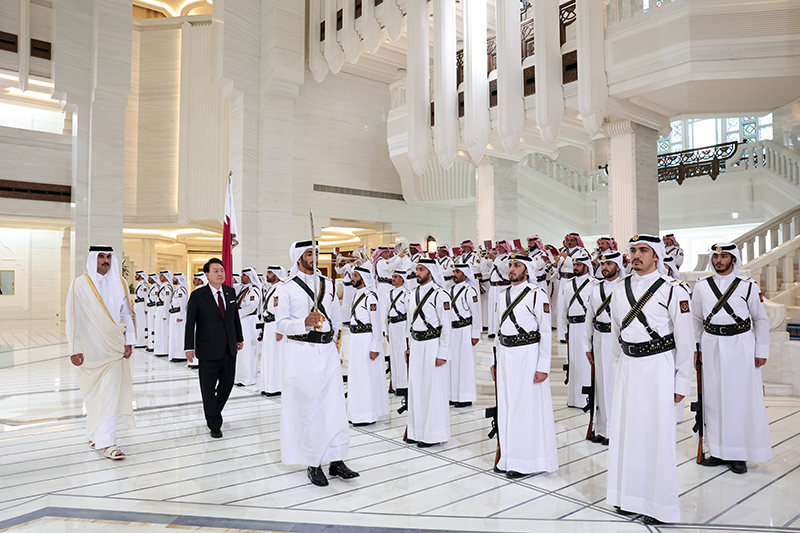 scf2979@korea.kr