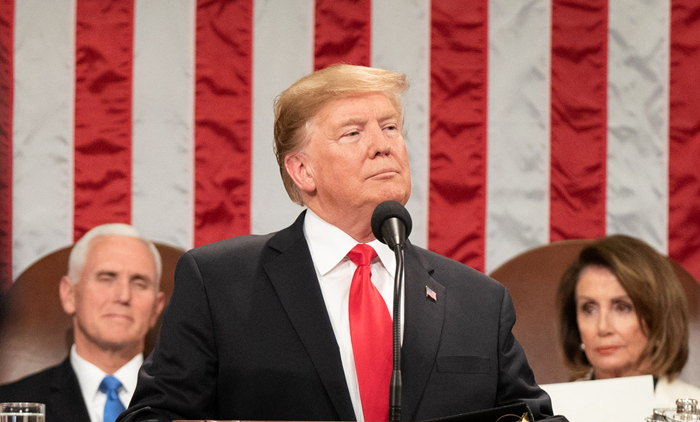 By Park Gil-ja and Yoon Sojung 
The second North Korea-U.S. summit between the North's leader Kim Jong Un and U.S. President Donald Trump will take place from Feb. 27-28 in Vietnam.
President Trump on Feb. 5 made the announcement in his State of the Union address at Congress in Washington, D.C.
Coming 260 days after their historic inaugural talks in Singapore on June 12 last year, the second Kim-Trump summit is attracting major global attention especially on whether substantial progress can be achieved in establishing a peace structure on the Korean Peninsula.
"As part of a bold new diplomacy, we continue our historic push for peace on the Korean Peninsula," Trump said in his address.
"Our hostages have come home, nuclear testing has stopped, and there has not been a missile launch in more than 15 months."
"Much work remains to be done, but my relationship with Kim Jong Un is a good one," he added, while not specifically mentioning the host city for the upcoming summit.
Right after the summit's dates were unveiled, Cheong Wa Dae immediately welcomed the announcement.
"The two leaders have already taken the historic first step of ending 70 years of hostility in Singapore," Cheong Wa Dae spokesperson Kim Eui-kyeom told a media briefing on Feb. 6, adding, "We hope that they can take a step forward in Vietnam for concrete and substantive progress."
"Vietnam and the U.S. once pointed their gun barrels toward each other but have now become friends," the spokesperson said.
"We hope Vietnam can become the best venue ever for North Korea and the U.S. so that they can write new history there."
Meanwhile, U.S. Special Representative for North Korea Stephen Biegun arrived in Pyeongyang on Feb. 6 for working-level negotiations there with the North's former ambassador to Spain, Kim Hyok Chol.
Both sides will focus on denuclearization measures and reciprocal steps to be taken by Washington and Pyeongyang for inclusion in the joint agreement to be reached at the upcoming North Korea-U.S. summit.