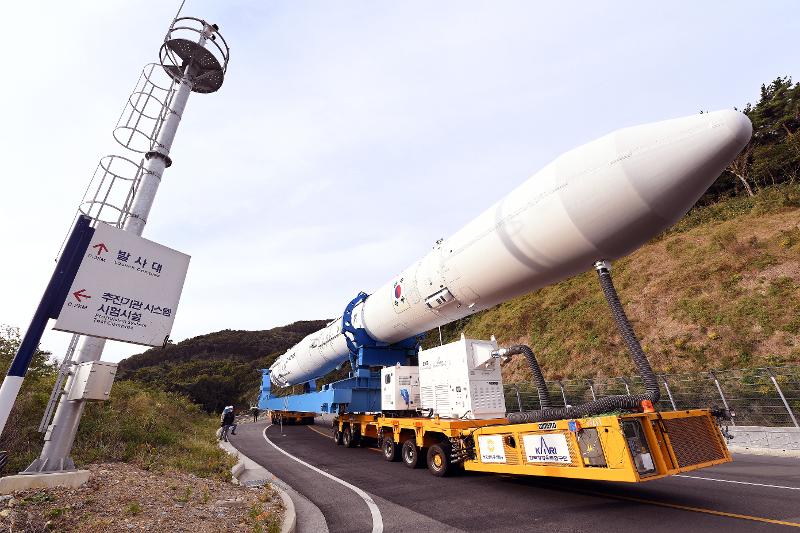 By Yoon Sojung
Korea's first homegrown space rocket Nuri on Oct. 20 was moved to its launchpad after being fully prepped for launch.
The Ministry of Science and ICT said the moving of Nuri to the launchpad by an unmanned motor vehicle began that day at 7:20 a.m. and ended at 8:45 a.m. from the assembly unit at Naro Space Center in Goheung-gun County, Jeollanam-do Province. It was moved 1.8 km at a speed of 1.5 km per hour for safety.
The launch is scheduled for Oct. 21 at 4 p.m. The ministry and the Korea Aerospace Research Institute will announce the exact time of launch about 90 minutes before liftoff.
Cheong Wa Dae said about the launch, "The nation should take pride in independently developing state-of-the-art technology that cannot be transferred to other countries and launching our own satellites and space rockets from our land."
Cheong Wa Dae Deputy Spokesperson Lim Se-eun on Oct. 19 said in a briefing, "The aim is to secure space transportation capacity that can carry a 1.5-ton satellite into a low orbit of 600-800 km above Earth. If successful, Korea will become the seventh country to launch a mid- to large-size projectile into orbit using its own technology."
"Considering the very low possibility of the successful launch of a rocket developed for the first time, this will still be a precious asset even if unsuccessful for building our space technology capacity."
She added, "Small and medium companies in the parts, materials and equipment industries all collaborated in the rocket's development, offering an opportunity to foster the domestic space industry."
"The launch will also offer Korea a chance to take on space exploration by upgrading the projectile's performance."
She said, "The Moon Jae-in administration has taken exceptional interest in and supported space development," adding, "In the future, the nation's space industry ecosystem led by the private sector will see a boost by transferring launch vehicle technology to the private sector and enhancing mass production capacity."
With its development beginning in March 2010 with a budget of KRW 1.95 trillion, Nuri is the nation's first space rocket made with domestic technologies and know-how ranging from design and production to testing and certification.