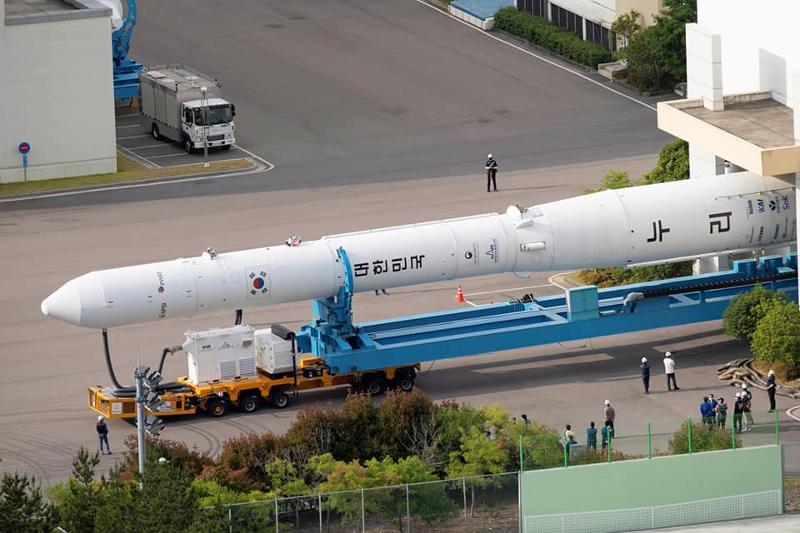 By Jung Joo-ri and Lee Jihae
The domestically developed space rocket, KSLV-II, aka Nuri, on June 21 will make its second attempt to blast off into space.
The Ministry of Science and ICT and Korea Aerospace Research Institute (KARI) will attempt the launch in the afternoon at the Naro Space Center in Goheung-gun County, Jeollanam-do Province.
In the morning, the ministry held a meeting of its committee for managing the launch to decide whether to charge Nuri's propellant. Another meeting in the afternoon will see an overall inspection of technical preparations, weather and risk of collision with a space object to finalize the launch time.
If the launch succeeds, Korea will become just the seventh country with the capacity to launch its own satellites.
The ministry and KARI late in the afternoon will analyze the orbital flight data and hold a briefing if the launch succeeded based on its comprehensive judgement.
Nuri's second launch was initially slated for June 15 at 4 p.m. but weather conditions postponed it for one day. The event was delayed again after inspections and repairs were conducted due to detection of technical flaws in the first-stage rocket's oxidizer tank sensor.
In its first launch in October last year, the rocket saw its third stage, fairing and dummy satellite all separate but the latter failed to enter its target orbit. This time, the goal is to place a working satellite in an orbit 700 km from the ground.
etoilejr@korea.kr