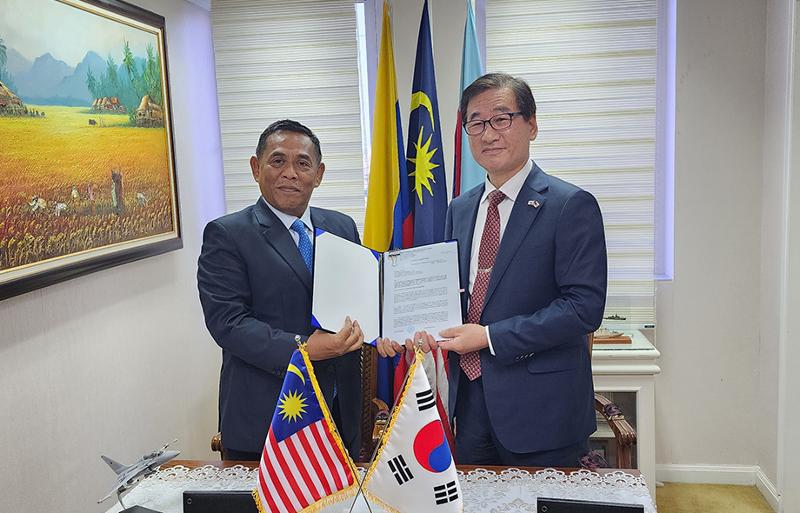 By Lee Jihae

Korea will export its FA-50 light attack aircraft to Malaysia.

Korea Aerospace Industries (KAI) said on Feb. 24 that its CEO Kang Goo-young and Secretary General of Malaysian Ministry of Defense Datuk Muez bin Abd Aziz concluded a deal to export 18 of the light attack aircraft to the Southeast Asian country.

Malaysia will spend USD 920 million for the aircraft to be fitted for in-air refueling and to have expanded armament functions. The first delivery of the aircraft will take place in 2026.

KAI has exported the FA-50 aircraft to Indonesia, the Philippines and Thailand.
CEO Kang said the concluding of the export deal with Malaysia was "the result of the consolidation of cooperation between the two governments."

"KAI will fulfill its role as a long-term partner by cooperating for not only successful delivery and management support, but also cooperation in national defense."

Secretary general bin Abd Aziz said, "The FA-50 is an outstanding aircraft that has multipurpose functions. I was very impressed by field inspections that showed operation of Korea's production facilities and the aircraft's current use by air forces."

"We hope the FA-50 plays a pivotal role in the cultivation of Malaysian combat pilots and the augmentation of combat skills."

jihlee08@korea.kr