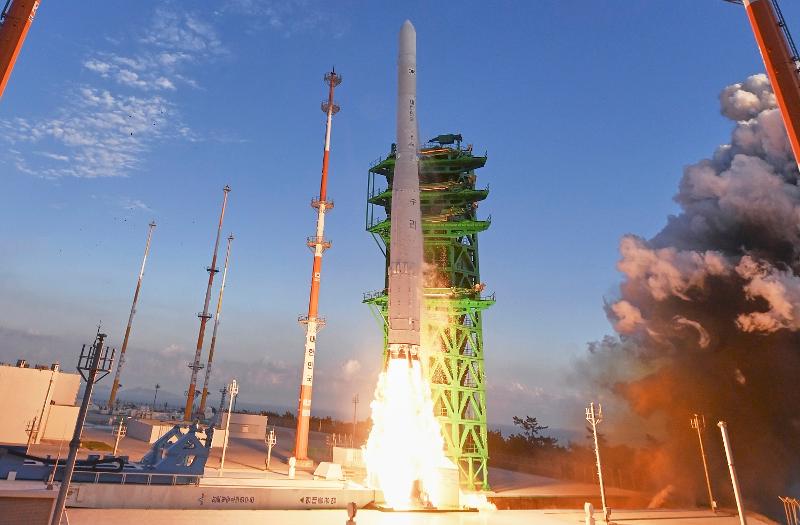 By Aisylu Akhmetzianova and Yoon Hee Young
The second launch of the domestically developed Korea Space Launch Vehicle-II, aka Nuri, is set for June 15.
The Ministry of Science and ICT on May 25 said a meeting of its Launch Management Committee finalized the date of the launch after comprehensive examinations of technical preparations and optimal conditions for liftoff.
The preliminary launch period is June 16-23 considering the possibility of a change of schedule due to weather.
Nuri will be launched from the Naro Space Center in Goheung-gun County, Jeollanam-do Province, and the committee will finalize the launch time through two meetings on the launch date. Yonhap News Agency on May 25 predicted that the rocket will blast off between 3 p.m. and 5 p.m., as the first launch came at 5 p.m. on Oct. 21 last year.
For its second launch, Nuri will carry a 180-kg performance verification satellite and four cube satellites (subminiature satellites with elementary functions). Its first launch had a payload of just a 1.5-ton dummy satellite with no working function.
Nuri received technical improvements based on the results of the first launch with its first and second stages completely assembled. While installing a gunpowder device to drive parts of the propulsion engine within the first and second stages, preparation is being done to mount the performance verification satellite on the third-stage rocket.
In addition, comprehensive training for final inspection of launch safety control was conducted on May 19 for a safe and successful launch to thoroughly prepare for a range of emergencies and secure public safety.
First Vice Minister of Science and ICT Oh Tae-Seog said, "After the first launch, domestic researchers and industry representatives did their best to improve and make technical complements to Nuri."
aisylu@korea.kr