The first Korean made nuclear reactor has begun operations in Jordan.
A ceremony was held to mark the launch of the Jordan Research and Training Reactor (JRTR) at Jordan University of Science and Technology (JUST) in Irbid, northern Jordan, on Dec. 7.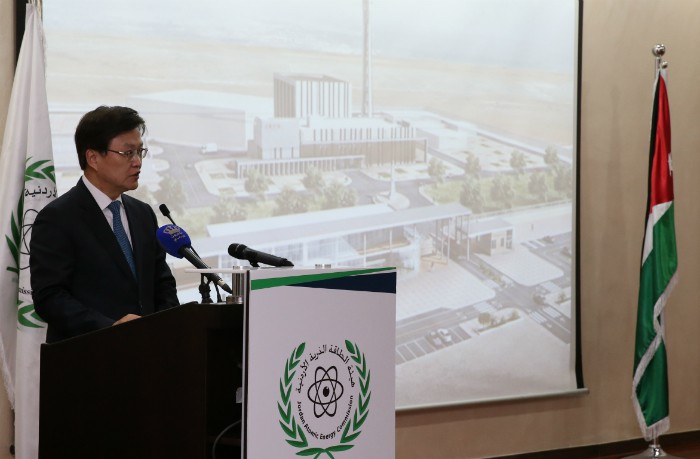 During the ceremony, Minister of Science, ICT and Future Planning Choi Yanghee said, "We will actively support safe and effective management of JRTR. We also hope to become a trustworthy partner of Jordan for the introduction of power reactors and for the development of science and technology in the near future."
The ceremony was attended by King Abdullah II, Prime Minister Hani Mulki, and Chairman of the Jordan Atomic Energy Commission Khaled Toukan.
JRTR is the first nuclear reactor to be established in Jordan. The JRTR project is worth USD 161 million and aims at establishing a nuclear reactor for the development of neutron science and technology, production of radioactive isotopes for cancer diagnosis and treatment, the conducting of neutron research and the fostering of experts in nuclear energy.
In 2009, the Korea Atomic Energy Research Institute (KARI) and Daewoo Engineering and Construction formed a consortium to receive the construction order. Since winning the order, the consortium has executed projects spanning over six years from 2010, including the construction of a 5-megawatt research reactor, isotope production facilities, and a complex for reactor management and administration. It has provided education and training for management staff and has successfully conducted test operations in late October this year.
Upon the request of Jordan for management support, the KARI is planning to dispatch experts to the country for the next two years after handing over the facilities to Jordanian management. It is also planning for technology cooperation for the active use of neutrons such as the joint development of the neutron beam.
By Yoon Sojung
Korea.net Staff Writer
Photos: KARI
[email protected]