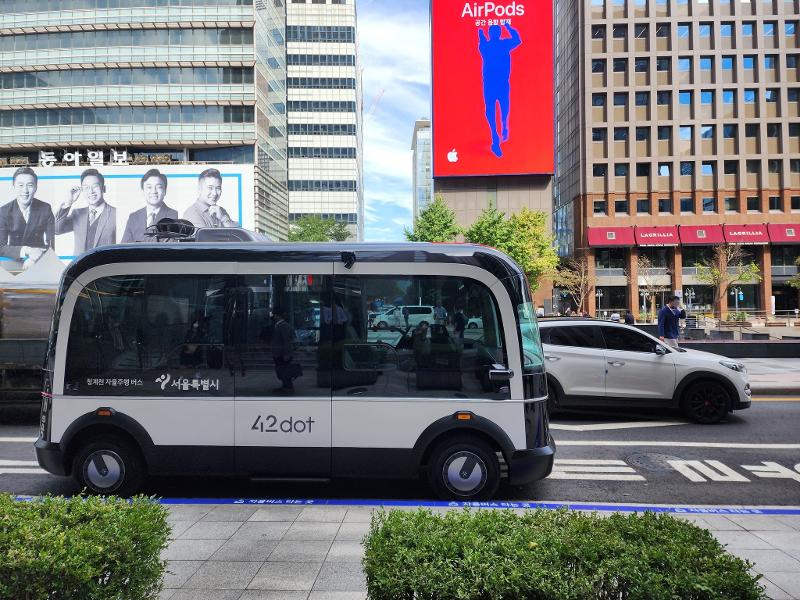 By Israa Mohamed

The Seoul Metropolitan Government on Nov. 6 said the route of self-driving buses traveling from Cheonggyecheon Stream to Sewoon Shopping Center in Seoul's Jongno-gu District from Nov. 10 will be extended to Gwangjang Market.

The extension to the famous traditional market will lengthen the roundtrip distance on the route from 3.2 km to 4.8 km.

"We decided on the extension despite many jaywalkers and motorbikes on the section causing difficulties for self-driving buses since we judged that autonomous driving technologies had been confirmed through repeated operations," the city said.
Since their launch last year on Nov. 25, the three high-tech vehicles have run the route 3,894 times for a combined distance of 12,461 km while carrying 4,027 passengers.

From Nov. 9, self-driving bus service between Cheong Wa Dae and Gyeongbokgung Palace will be temporarily suspended. The city said, "We plan to resume running the autonomous buses from March next year after conducting internal screening of the self-driving system."
Such buses running on both routes are free to ride but fares will be charged from next year.
Deputy Mayor for City Transport Yoon Jong Jang said, "The city will continue expanding its operation of self-driving buses in the future by actively using our accumulated data."
ess8@korea.kr