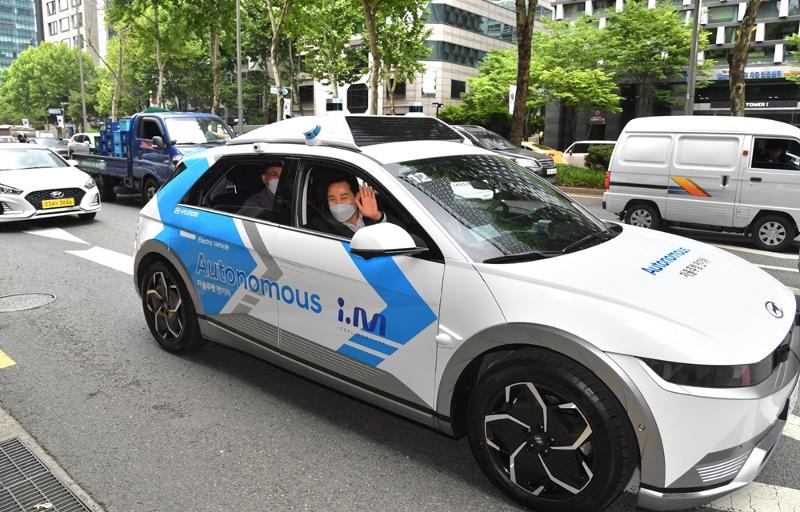 By Lee Jihae
A self-driving taxi with no human driver from August will drive around Seoul's Gangnam-gu District, an area considered to have the worst traffic in the capital.
The Ministry of Land, Infrastructure and Transport and Hyundai Motor Co. on June 9 tested and verified in Gangnam-gu the car-hailing service RoboRide, which used a Hyundai Ionic 5 with Level 4 self-driving technology.
The vehicle on the same day autonomously changed lanes, turned left and right, and made U-turns on its own on streets with pedestrians and large buses.
Minister of Land, Infrastructure and Transport Won Hee-ryong and Seoul Mayor Oh Se-hoon were the first passengers of RoboRide to verify the service. They each rode a self-driving vehicle at the Hyundai AutoEver building in Gangnam-gu and covered 3.4 km, going through POSCO Intersection, Seolleung Station, Hotel Renaissance Seoul and Teheran-ro Road.
Commercial application of Level 3 technology, which enables vehicles to drive autonomously in certain venues such as expressways and vehicle-only roads, has been secured. Many countries are developing and verifying technology of Level 4 or above.
Hyundai Motor began verifying Level 4 technology in Gangnam-gu, the worst area in Seoul for traffic, and will gradually expand testing. Its plan is to commercialize fully self-driving Level 4 vehicles by 2027.
Free self-driving vehicle service will be launched as early as August. People through mobile apps can reserve and call for such vehicles and designate the routes. To minimize inconvenience, two self-driving vehicles will run from 10 a.m. to 4 p.m. in Gangnam-gu and Seocho-gu District only.
Minister Won said, "My heart is bursting with joy to see Korea's self-driving technology actually showcased to people around the world on the busiest and most iconic stage."
Mayor Oh said, "(The ride) was so natural that I couldn't tell if a person or machine was driving," adding, "But because of many unpredictable situations, we need to gather more data on how to respond (to emergencies)."
jihlee08@korea.kr