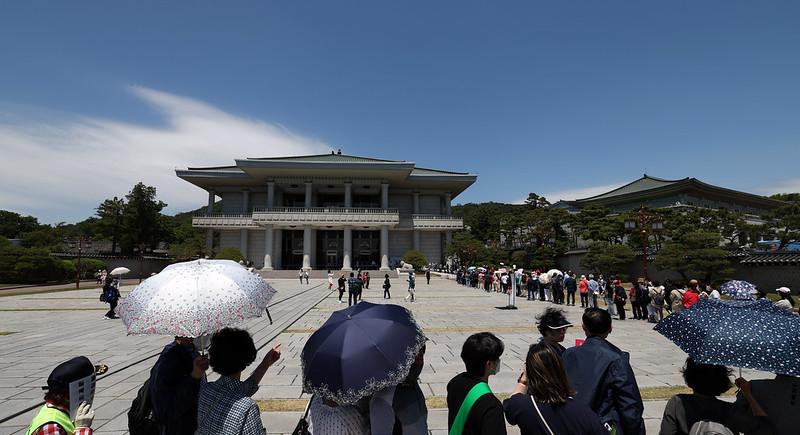 By Kim Seon Ah
An estimated 4.8 million visitors by year's end are expected to tour Cheong Wa Dae, the former presidential compound that was opened to the public on May 10.
The Cultural Heritage Administration's (CHA) committee for opening Cheong Wa Dae to the public on Oct. 18 said the cumulative number of visitors to Cheong Wa Dae as of Oct. 17 was 2,208,244, more than double the figure of those going to Gyeongbokgung Palace last year (1.08 million)
Thus an average of 10,000 people per day and 20,000 per weekend visited Cheong Wa Dae.
Kim Young-jun, head of the Tourism Research Bureau at the Korea Culture and Tourism Institute, said, "The number of visitors to Cheong Wa Dae is expected to surpass 4.8 million this year if this trend continues," adding, "(Cheong Wa Dae) is getting more visitors than any other cultural tourist spot in Seoul."
The number of visitors to the nearby Gyeongbokgung Palace and National Museum of Modern and Contemporary Art, Korea has also spiked since Cheong Wa Dae's opening, with the palace forecast to see three million and the museum 2.5 million by year's end.
The reasons for the compound's explosive popularity are its historical value, cultural and artistic content, natural landscape, and performances and exhibitions to mark the opening of the compound.
Cheong Wa Dae houses about 600 artworks and more than 50,000 trees. Its gardens, cultural artifacts and other remains hold symbolic value and appealing content.
The Ministry of Culture, Sports and Tourism on May 22 hosted "KBS Open Concert" at Cheong Wa Dae to commemorate its opening. From Aug. 31 to Sept. 19, an exhibition of the works of disabled artists was held at Chunchugwan, the former presidential media center.
The CHA committee said 89.1% of 1,000 people surveyed in July positively rated Cheong Wa Dae's opening.
Deputy Minister of Culture, Sports and Tourism for Culture and Arts Policy Yoon Sungchun said, "The complete opening of Cheong Wa Dae, a space intrinsic to the Republic of Korea's history and culture, is a new experience of our history and can be the starting point of an era of cultural prosperity."
The ministry plans to utilize the main indoor facilities at the compound such as the former reception hall Sangchunjae and VIP reception venue Yeongbingwan, while utilizing the gardens of Daejeongwon and Nokjiwon as venues for holding gugak (traditional music) and classical music concerts.
Four musical performances under the series "K-classic to Tint Fall at Cheong Wa Dae" (unofficial translation) are slated from Nov. 1-11 on the second floor of Yeongbingwan. Along with the Seoul Arts Center and Korean National Symphony Orchestra, the concerts will feature pianists Kim Sunwook, Sunwoo Yekwon and Son Yeol Eum and violinist Yang In Mo.
sofiakim218@korea.kr