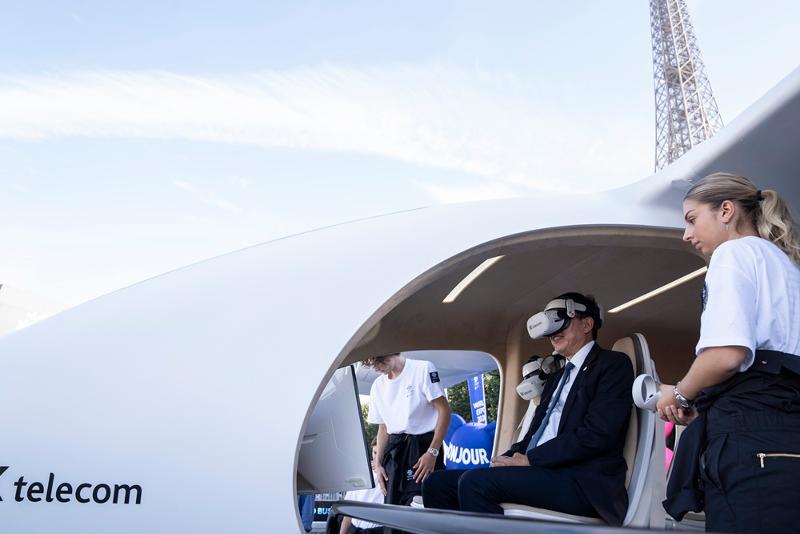 By Lee Jihae
Photos = Busan Metropolitan City

Promotion of Busan's bid to host the 2030 World Expo has gone into overdrive in Paris.

Busan Metropolitan City on Oct. 10 said it held the promotional event "Fly to Busan" from Oct. 9-10 at Cafe Gustave on the Seine River in front of Eiffel Tower in Paris to publicize the bidding campaign.

The first and second floors of the cafe offered Busan specialties like eomuk (fish cake), tteokbokki (spicy rice cake), hotteok (bun with sweet filling) and camellia tea. The first basement floor held an exhibition of works related to Busan by artist Choi Hye-ji, Korea's representative at Art Basel, the world's largest art fair.

At the ferry dock in front of the cafe, the male trio Sangjaru, a fusion gugak (traditional music) band, gave a performance. Visitors also boarded urban air mobility (UAM) vehicles and used virtual reality devices to experience what Busan could look like in 2030.
"Through the event 'Fly to Busan,' we will present in Paris the taste and beauty of Busan, a candidate host city for the 2030 World Expo, and the event's related values like major and minor themes," Busan Mayor Park Heong-joon said. "Through this, we will foster an atmosphere of attracting support for the bid from tourists and Parisians."