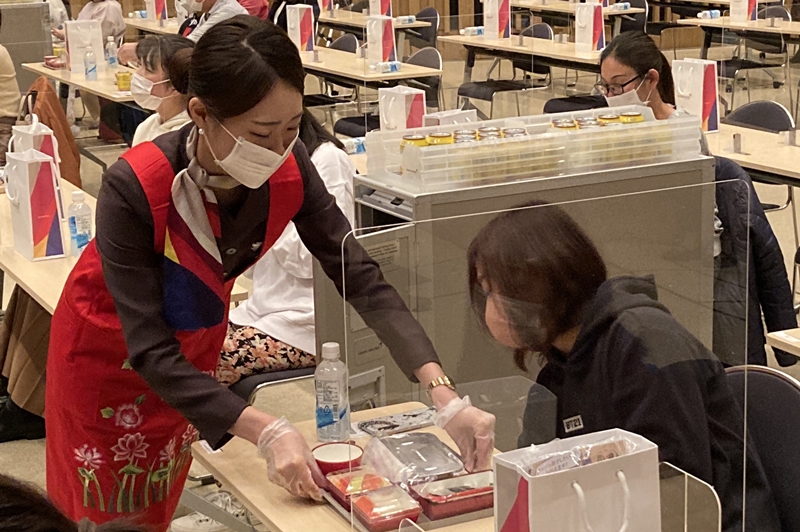 By Kim Eun-young and Yoon Hee Young
Japanese who love Korea on Nov. 14 gathered in Tokyo's Shinagawa district to participate in an Asiana Airlines event for in-flight Korean meals hosted by the Korea Tourism Organization (KTO) and Asiana.
The Korean dailies Chosun Ilbo and Segye Ilbo on Nov. 16 said nearly 2,000 applicants vied for just 100 spots, or a competitive ratio of 20:1.
The reports said participants received their boarding tickets bound for Seoul and were escorted to their seats, which were arranged like those in an airplane. Their in-flight meal comprised bibimbap (rice mixed with meat and vegetables), gochujang (red pepper paste), gim (dried and salted laver), potato salad, fruit dessert and sikhye (sweet rice punch).
The participants said eating an in-flight meal of bibimbap made them want to visit Korea.
Yuhuka Shimizu said, "I thought the food was delicious because of my excitement or air pressure, but it was good on land as well," adding, "I'm soothing my desire to go to Korea by watching Korean movies, and I'm thinking of visiting as soon as quarantine measures are eased and travel is freed up."
Mami Kimura said, "I visited Korea every three months before COVID-19, which filled my passport with arrival stamps," adding, "It's sad that I cannot go to Korea, but I feel like I'm in Korea when seeing gochujang in flight."
The event's purpose was to give Japanese the opportunity to indirectly experience Korea amid the suspension of travel due to the pandemic.
Joung Jin-su, head of the KTO's Tokyo branch, said in his greeting, "As the national vaccination rates of both countries have surpassed 70%, Tokyo is starting to resume behind-the-scenes work for domestic travel, which will further be expanded to outbound (international) travel."
"I think everyone wants to smell the air of Seoul and Busan, and I hope that travel resumes as soon as possible so that you can enjoy tours of shooting locations and musical performances."