By Jeon Han and Lee Jihae
Video = Choi Taesoon
Seoul | Oct. 25, 2019
Cafe ASEAN, an event that offers free coffee made from beans imported from the 10 member states of the Association of Southeast Asian Nations (ASEAN), was launched on Oct. 25, a month before the Korea-ASEAN special summit slated for Busan next month.
Located at Cheonggye Plaza, the cafe has as its slogan "Unity in Diversity."
Foreign Minister Kang Kyung-wha was on hand for the cafe's opening, making, tasting and distributing coffee for customers. "We gathered coffee from all ten ASEAN member states as we prepared for the special summit," she said.
"The event is both enjoyable and meaningful as it reflects our unity in hoping for the success of the special summit."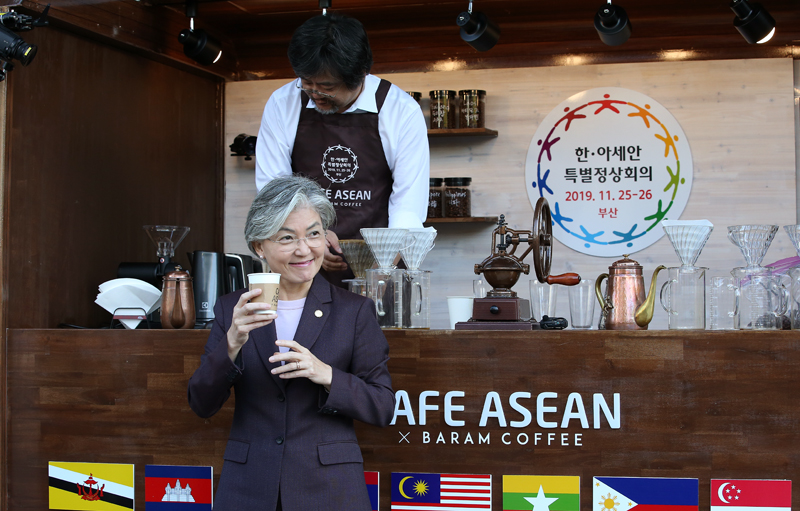 Lee Jong-jin, the barista at the cafe's opening, said, "(ASEAN) coffee tastes like soil and gives a strong feeling of earth. It has a strong taste and is bittersweet."
"We roasted and blended the coffee in a way that brought out the distinct taste of each country based on their locations, such as Indonesia, Thailand and Myanmar. It's the type of blend Koreans like."
The event will run nationwide through Nov. 27 at events on the sidelines of the ASEAN-Korea summit. Trucks offering the coffee will be at city plazas and areas nearby college campuses.
More information on the cafe's venues and related events can be found on the Ministry of Foreign Affairs' social media accounts and the link below:
https://2019asean-roksummit.kr/
This clip shows the launching of Cafe ASEAN: