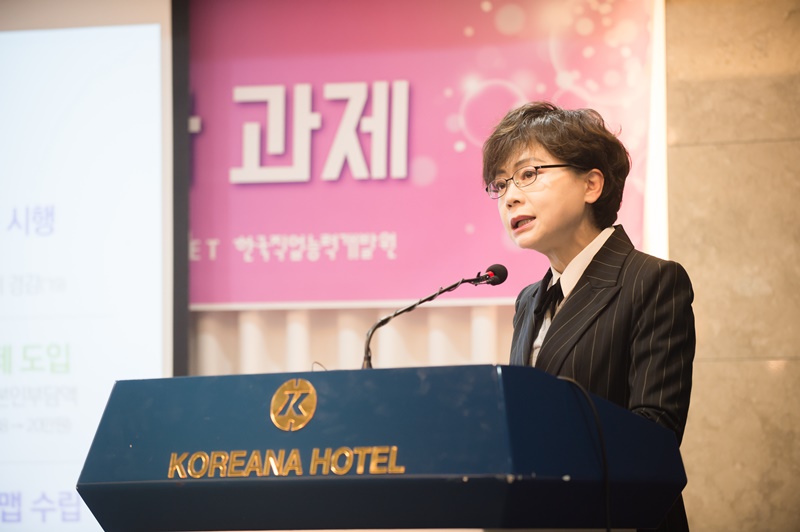 By Oh Hyun Woo and Kim Minji
A forum on the results and remaining tasks of social policy in the first half of President Moon Jae-in's term term was held on Dec. 17 at Seoul's Koreana Hotel.
The event was jointly hosted by the Ministry of Education and a network of 19 research bodies in social policy sectors such as education, welfare and labor.
Deputy Prime Minister and Minister of Education Yoo Eun-hae, in a congratulatory speech via video, said "The Moon administration proposed 'an innovative, inclusive nation where everyone prospers together' as a vision of national administration and has promoted various social policies."
"As a result, overall living conditions have improved from two years ago, according to a survey by Statistics Korea," she said, adding, "Related ministries should work together to improve daily life for the people and ensure that the process is based on inclusiveness, innovation and fairness."
Cho Heung-seek, president of Korea Institute for Health and Social Affairs, and representatives from local governments, civic organizations and specialized entities gave presentations at the forum on the administration's results and tasks from the viewpoints of inclusiveness, innovation and fairness.
"The government is achieving inclusiveness through a citizen-friendly welfare policy," Cho said, adding, "The issues of social polarization and elderly poverty should be resolved through the expansion of welfare policy and stronger taxation."
Ra Young-sun, president of Korea Research Institute for Vocational Education and Training, said, "The results of (the government's) policy of enhancing human resource capacity are being verified through select indicators," adding, "Social policy should actively perform the function of accumulating and utilizing human capital."
In a discussion session after the presentations, four participants including Ku In-hoe, a social welfare professor at Seoul National University, and Hong Seon-mee, a social welfare professor at Hanshin University, explored remaining tasks in social policy and shared opinions on its direction.