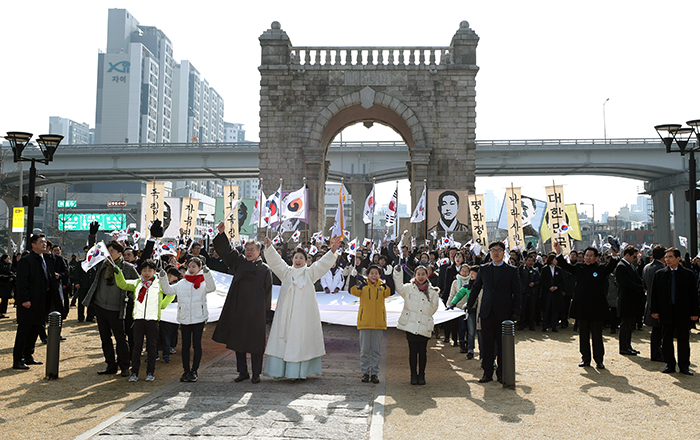 By Xu Aiying and Yoon Sojung
A variety of events this year in 179 countries and with the participation of 7.4 million ethnic Koreans worldwide will mark the centennial anniversary of both the March First Independence Movement of 1919 and the establishment of the Korean Provisional Government in China.
These events seek to promote reflection on the spirit of the movement and a look back on the history of the Korean government-in-exile.
The Ministry of Foreign Affairs on Feb. 19 said in a news release that it will host celebratory events and receptions to mark the occasion at Korean embassies and cultural centers overseas. Those to be invited include each area's residents, ethnic Koreans, Korean War veterans and non-Koreans who helped Korea's independence movement.
Also throughout the year, the ministry will also host 64 projects around the world to honor the meaning of the movement and the formation of the provisional government. The projects will include traveling expositions of historic sites related to the movement, seminars, photo exhibitions and commemorative publications.
In July, a Korean-Chinese friendship caravan will have 100 youths travel to the five locations where the Korean Provisional Government was housed, including Shanghai and Guangzhou.
Another part of the ministry's commemorative plan is the construction of a peace memorial hall in Utoro, a village in the Japanese city of Uji, Kyoto Prefecture. This is where many Koreans who were forced to help build a military airport in Japan when Korea was under Japanese colonial rule live.
Once on the brink of demolition, Utoro was saved thanks to support for a construction project scheduled from 2019-21 pitched in by Korea, Japan and other countries. The venture's purpose is to preserve and pass down the history of the region.
The ministry said called its plan for the movement's centennial anniversary "a festival for all Koreans both in and out of the country," adding, "By doing so, we will share and spread the spirit of the movement so that the world can sympathize with it for peace in East Asia and the world."