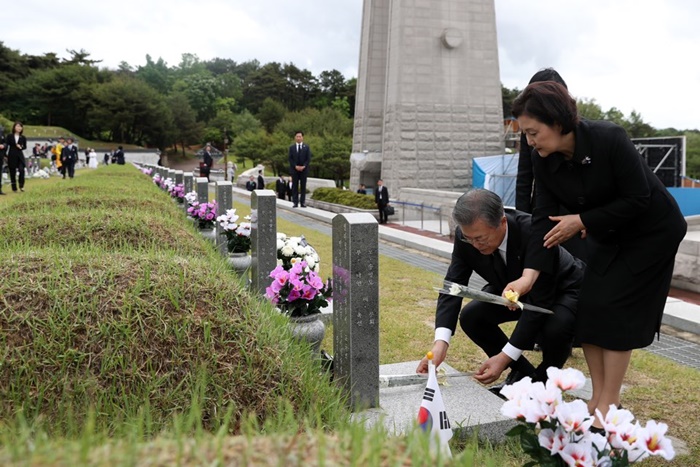 By Kim Minji and Kim Hwaya 
A ceremony to commemorate the 39th anniversary of the May 18 Gwangju Democratization Movement of 1980 took place on the morning of May 18 at the May 18 National Cemetery in Gwangju.
Under the theme "May in Gwangju, for a Righteous Korea," around 5,000 people attended the event including government representatives and bereaved families of the victims.
In the opening ceremony, the band Black Hole played the song "The Last Diary," whose lyrics are based on the daily journal of a high schooler killed during the uprising.
The opening performance and singing in unison of "March for the Beloved," the movement's de facto theme song, in front of the old building of Jeollanam-do Provincial Office were simulcast at the cemetery for the first time.
Another highlight was the recitation of the comments of Park Young-soon, who on May 27, 1980, announced the situation to Gwangju residents on the streets from the provincial office building.
The Ministry of Patriots and Veterans Affairs said, "The May 18 movement should be shared by the entire nation as a sublime event in the nation's history of independence movements to unite the people," adding, "This value and message will be presented next year at the 40th anniversary ceremony."
Lasting from May 18-27, 1980, the uprising saw residents of Gwangju and Jeollanam-do Province rise up to demand democracy and free elections after a military coup was staged.
Other events to mark the movement were also held in Seoul and throughout Korea.