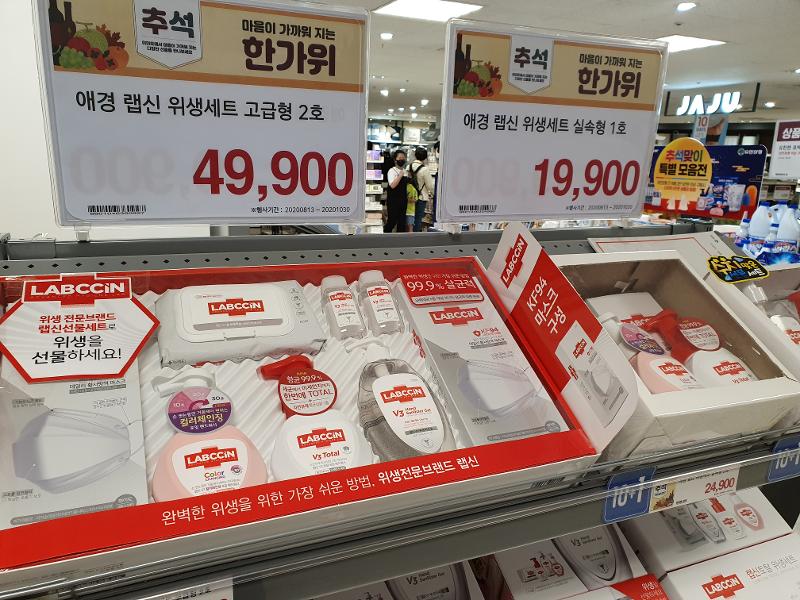 By Lee Kyoung Mi and Yoon Sojung
Photos = Lee Kyoung Mi
Seoul | Sept. 13, 2020
COVID-19 is reshaping the trends of Chuseok gift giving.
This is because the government has urged the people not to visit their hometowns or hold family gatherings in this year's holiday. Instead, those staying home are spending more on gifts for relatives.
Business analyses said Koreans are apparently buying more expensive presents to make up for not seeing their families during the holiday period and using the savings from not traveling.
Domestic retail giant SSG.com said the average price range of consumers for Chuseok gifts from Sept. 13-19 jumped 15% from the same period last year. The number of such presents sold costing more than KRW 200,000 also skyrocketed 194%. Among all gift orders, those costing KRW 100,000-200,000 more than doubled in quantity from last year.
The company attributed the hike to the increased ceiling of an anti-graft law that temporarily doubled the price range of gifts of agricultural and marine products to KRW 200,000 for this Chuseok holiday.
SSG.com said, "People are spending more on Chuseok gifts this year because it's more difficult this year to visit their hometowns due to social distancing than last year."
The surge in sales of gift sets of hanwu (high-grade domestic beef) is another gift trend this year. Hyundai Department Store, one of the nation's top three in its sector, said sales of pre-purchased hanwu sets costing more than KRW 500,000 jumped 121.1% from the same period last year. Shinsegae Department Store, another member of the top three, said such sets accounted for the largest share of 22.6% of its sales of Chuseok holiday gifts from Aug. 24 to Sept. 21.
COVID-19-related items are also rising in popularity as gifts. As public interest in personal hygiene and health grows, more people are choosing to give presents related to health or personal hygiene.
Reflecting this trend, Chuseok gift sets of hand sanitizers, face masks and sanitary tissues debuted this month. More than 60% of 2,000 such packages made by Aekyung Industrial were purchased in advance. In addition, gift sets of hand wash products were ranked among the ten bestselling gift items, showing how the pandemic has changed trends in Chuseok gift giving.
An analysis by the online shopping mall Wemakeprice found that health and medicinal products such as red ginseng and vitamins topped all other Chuseok items in sales for Chuseok this year with a 40% share, whereas processed food was king last year.
Other items debuting as gifts during this year's Chuseok include massage chairs for the elderly, air purifiers and luxury camping cars for spending leisure time while maintaining a noncontact life.