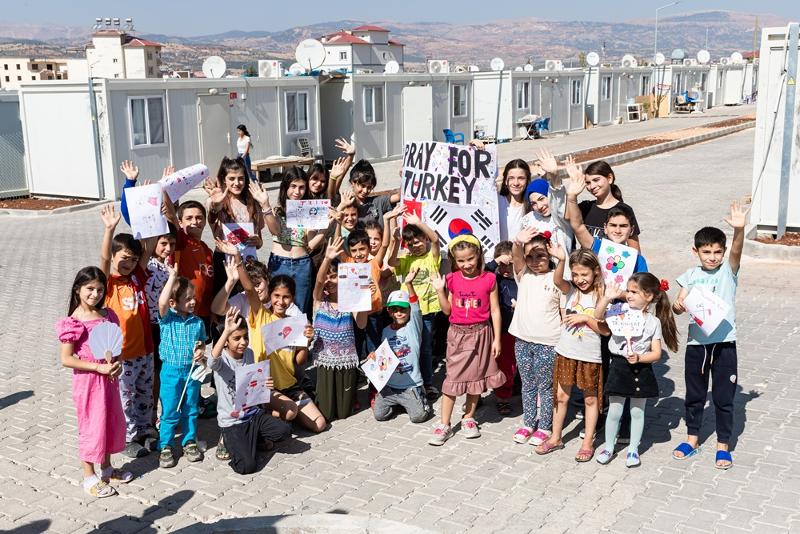 By Lee Jihae
Photos = Korean Red Cross

The Korean Red Cross (KRC) on Oct. 11 said it has built a temporary housing complex in the town of Pazarcik of Kahramanmaras province in Turkiye (Turkey) for people who fled their homes due to the massive earthquake that hit the country in February and held a move-in ceremony on Oct. 7.

The 7.7-magnitude quake hit Pazarcik, home to 70,000 residents in Kahramanmaras, which along with Hatay suffered the heaviest damage among the country's 11 provinces from the disaster.

To support recovery efforts in the area, the KRC in late February began building the temporary housing complex Korea-Turkiye Friendship Village with the Turkish Red Crescent (TRC).

The makeshift village covers 108,000 square m with about 1,000 containers that are fully inhabited. A school, playground, store, health center and psychological support facility will also be opened for resident convenience.

The temporary homes have sinks, bathrooms and furniture such as bunk and sofa beds in addition to water and electrical facilities, air conditioners, TVs and washing machines provided by Korean companies.
Complex resident Selver Erpirti said, "Before I moved here, I couldn't eat properly at a tent camp for a month but since coming here, my food problem was solved and the washers and TVs in the container complex have greatly helped life for both me and my child."
KRC President Kim Chul-Soo, Korean Ambassador to Ankara Lee Won-Ik, TRC President Fatma Meric Yimaz, leading government officials, Korean entrepreneurs in Turkiye and residents of the town attended the ceremony and congratulated residents moving into the complex.

"Turkiye is a brother country that first offered a hand to Korea during the latter's most difficult time during the Korean War, so Korean feelings toward Turkiye are very special and we shed tears and suffered together while voluntarily stepping forward to help Turkiye," the ambassador said. "We will continue doing our best with the Turkish Red Crescent to help the victims quickly return to daily life."
As of Oct. 11, the KRC said its fundraising efforts launched immediately after the quake hit Turkiye and Syria generated KRW 38.5 billion. In addition to the Pazarcik complex, the funds will support affected areas like the building of a humanitarian aid center with a children's playground and facilities for cultural experiences, education, health and medicine, and sports in Antakya, the capital of Hatay province.
Korean Red Cross President Kim Chul-Soo (left) on Oct. 7 hands out daily necessities to residents of the Korea-Turkiye Friendship Village at the latter's move-in ceremony in the town of Pazarcik in Turkiye's Kahramanmaras province.
jihlee08@korea.kr