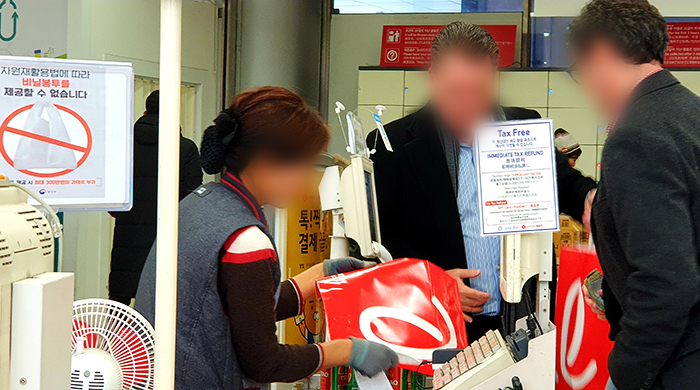 By Xu Aiying and Lee Hana
Photos = Xu Aiying
Seoul | Jan. 9, 2019
A woman who lives alone has begun carrying a tote in her handbag because her nearby supermarket no longer offers plastic bags to carry her groceries. Since the availability of such bags has slowly decreased in her neighborhood, she said she needs a tote handy.
Meanwhile, the owner of a bakery in an apartment complex has been busier than usual because he has to explain the government ban on plastic bags to his customers. "Many of our customers are unhappy about the ban. I'm unsure whether to wrap the bread in recycled paper because rules about that remain unclear," he said.
These are a few changes Koreans have experienced after the ban took effect this year.
As of Jan. 1, the Ministry of Environment has banned the use of plastic bags at all supermarkets bigger than 165 square meters. Businesses seeing heavy use of such bags such as dry cleaners as well as those previously excluded from the regulation must comply with the rule and charge for a plastic bag.
On Jan. 9, a little over a week after the regulation came into effect, Korea.net visited several major supermarkets in Seoul's Dongjak-gu District to find out what had changed.
More customers than last year apparently brought their own shopping bags, but smaller plastic bags for fish and meat were still in use. Storeowners also had a hard time answering questions about whether items such as vegetables or ice cream could still be put in plastic bags at checkout.
As the ban exclusively applies to grocery stores of a certain size, many customers were confused over why certain stores offered plastic bags while others did not. Thus time is needed for both shoppers and merchants to get used to the regulation.
"Environmental pollution due to the use of plastic is something all countries have to work on together," Gilbert Hernandez, an Australian shopper, told Korea.net at the Lotte Mart in Seoul Station. "At first, it'll feel inconvenient but it's time we changed our patterns for the sake of the environment."
Worldwide, efforts are in full swing to reduce the use of disposable plastic products such as straws, dishes and bags. Regulations have been announced by the European Union (EU), the U.S., Taiwan and India and more countries are expected to join the initiative over time.
In Korea, the average person in 2015 used around 414 plastic bags, twice the figure in the EU (198) the same year. Experts said this means that each Korean produced over 20 kg of greenhouse gases in a year, adding that the ban is a necessity that people must adopt in daily life.
The government recommends that shoppers make it a habit to carry reusable plastic or cloth bags, shopping baskets or paper bags instead of single-use plastic bags.
Retail businesses are also making it easier for people to use reusable shopping bags even if shoppers forget to bring them. Major discount chains like Emart and Lotte Mart offer rental of a reusable bag at prices ranging from KRW 500-3,000, with the fee refunded upon the bag's return.
Certain convenience stores have begun renting reusable bags as well. At checkout, a customer can rent one by leaving a KRW 500 deposit.