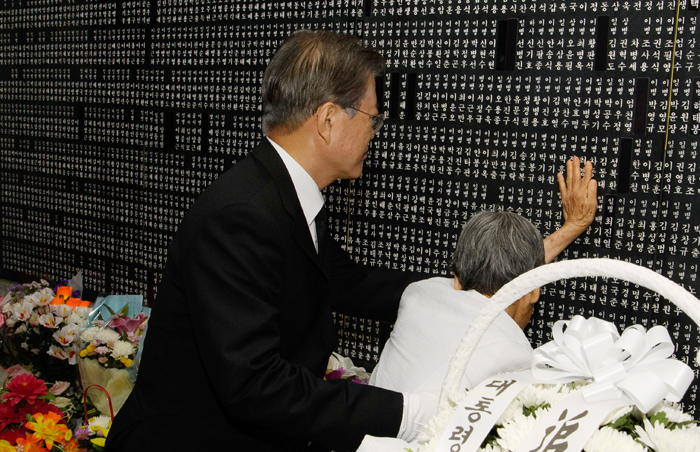 By Jeon Han and Kim Minji 
Photos = Hyoja-dong Studio
"One duty of a state is to respond to the firm conviction that no matter what happens, the state will remember each individual and repay their dedicated contributions."
So said President Moon Jae-in on June 6 in a speech he gave at the 64th ceremony to mark Memorial Day at Seoul National Cemetery.
About 10,000 people attended the event, including foreign ambassadors and the bereaved families of the fallen.
"No death is in vain when it is in service to the country," the president said, adding, "This year marks the centennial anniversary of the March First Independence Movement and the establishment of the Provisional Government of the Republic of Korea (ROK). Over the past century, numerous patriotic ancestors who gave their lives and those who rendered distinguished service to the nation have served as our buttress."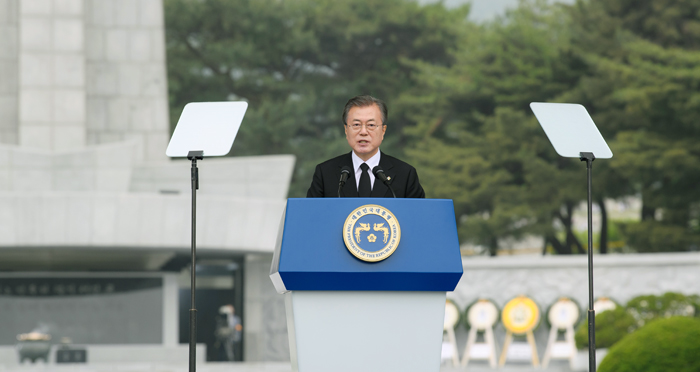 The president also mentioned the establishment of the Korean Liberation Army by the provisional government and the military alliance with the U.K. and the U.S. "The indomitable determination of unified Korean Liberation Army members to resist as well as the military capabilities fostered in cooperation with Allied forces served as the root of the founding of the Republic of Korea's armed forces following liberation, and later became the groundwork for the ROK-U.S. alliance."
"On the meaningful day of April 11 this year, which marked the centennial anniversary of the Provisional Government of the Republic of Korea, a bipartisan resolution to formally recognize the provisional government as the root of the Republic of Korea's foundation was submitted to the U.S. Congress."
The president said, "The resolution underscored that the formation of the provisional government served as the foundation of the success and prosperity of Korea's democracy, and that the ROK-U.S. alliance must be further strengthened in the areas of diplomacy, economy and security."
He also mentioned that the U.S. endured the most casualties during the Korean War, which saw nearly 2 million soldiers from 22 countries take part, and that Seoul will build a so-called Memorial Wall of Remembrance by 2022 at the Korean War Veterans Memorial in Washington.
"We will honor the noble sacrifices of each and every fallen American veteran of the Korean War and help the sublime value of the Korea-U.S. alliance become deeply etched in the hearts of both peoples," President Moon said.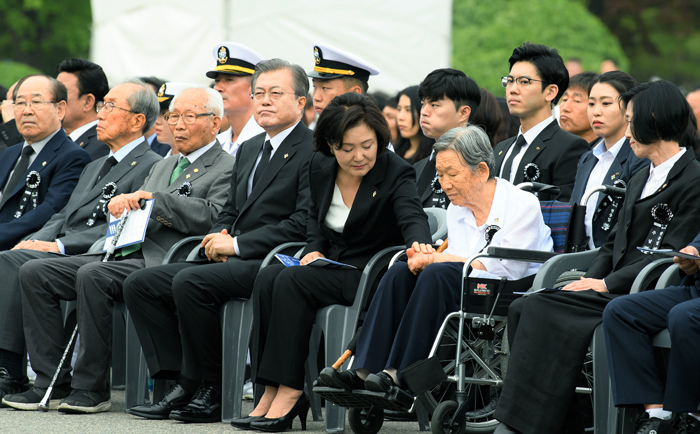 The chief executive also promised to strive toward expanding medical infrastructure and substance for decorated patriots and veterans.
After his speech, he visited Memorial Tablet Enshrinement Hall at Hyeonchungtap Memorial Tower, which houses memorial tablets of soldiers whose bodies were never found. He also paid silent and floral tributes to 104,000 war veterans and 6,000 unknown soldiers.