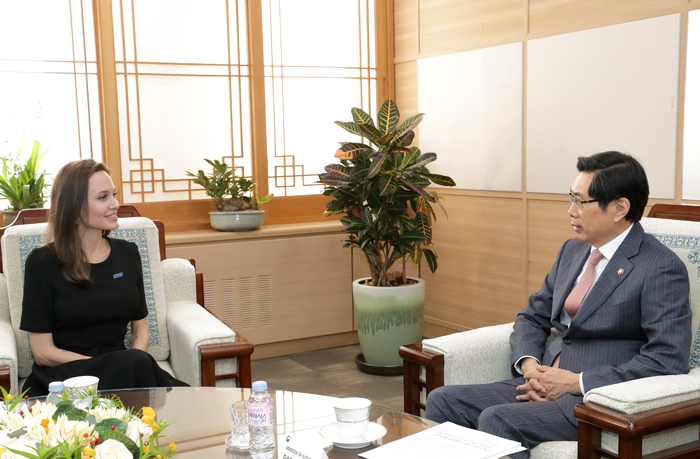 By Kim Young Shin 
Photos = UNHCR, the UN Refugee Agency
Actress Angelina Jolie thanked Korean government for supporting Yemeni refugees on Jeju Island.
Jolie, on a visit to Korea as a special envoy of the United Nations High Commissioner for Refugees (UNHCR), met the Minister of Justice Park Sang-ki, who is in charge of the refugee policies, at the ministry's office in Gwacheon, Gyeonggi-do Province on Nov. 4 and thanked the Korean government for aiding some 500 Yemeni refugees that traveled to Jeju Island in May.
Jolie stressed the importance of thorough procedures for screening as well as efforts to provide protection until the refugees can return home safely.
"Korea, with its own history of overcoming war and displacement, has the potential to play an important leadership role in the region," said Jolie. "The private sector in Korea is donating millions, largely from some 230,000 generous individual donors, demonstrating a strong sense of solidarity with refugees and the UNHCR."
"A continuous effort for a more connected and open society is needed," said the minister. "It is important to face the refugee issue as a responsible member of international community but it is also critical to carefully watch the public opinion on that matter."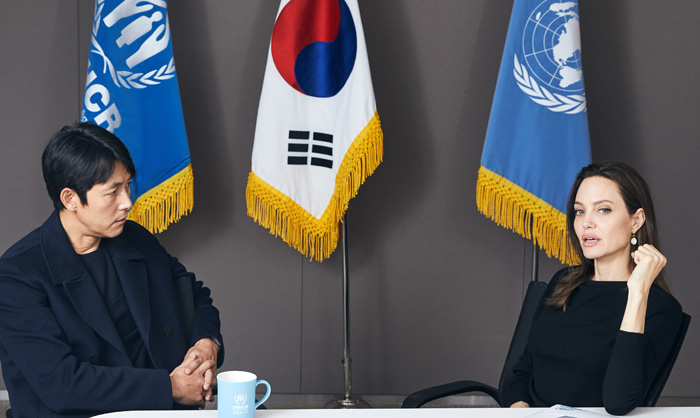 Previously, Jolie met with Actor Jung Woo-sung, an UNHCR Goodwill Ambassador for Korea, to talk about Korean people's concern over the Yemeni refugees on Jeju and their experiences at refugee shelters around the world.
The special envoy called for greater understanding of refugee protection laws and all countries to play their part in alleviating the suffering in Yemen, saying "As an international community, we have been shamefully slow to act to end the crisis in Yemen."
ysk1111@korea.kr