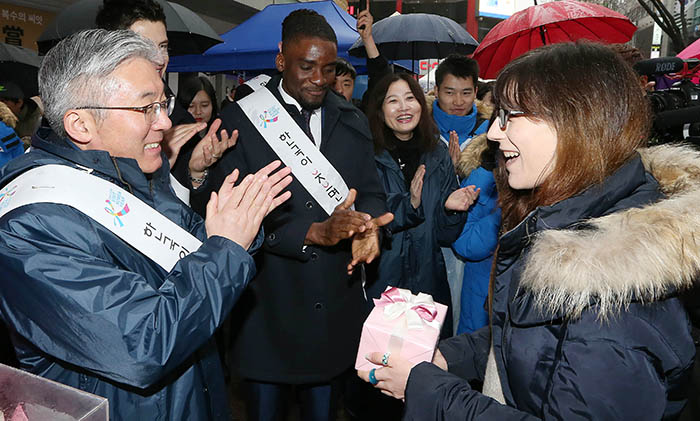 Minister of Culture, Sports and Tourism Kim Jongdeok and cast members of the TV show "Abnormal Summit" ("비정상회담") have been sharing smiles with tourists in Seoul's central Myeongdong shopping district.
On Feb. 12, Kim was joined by "Abnormal Summit" stars Alberto Mondi, Samuel Okyere and Nikolai Johnsen on a special stage in front of the Myeongdong Theater. There, the TV personalities hosted a mini talk show, "Reply, K-Smile," where they discussed topics such as tourism in Korea and acts of kindness.
Part of the ministry's tourism promotion "K-Smile" campaign, the Myeongdong events were held to support the "2016-2018 Visit Korea Year" and the "Korea Grand Sale," a series of discounts available at retailers and accommodations across the nation.
The "K-Smile" campaign was launched last year with the goal of perpetuating a "culture of kindness" across every avenue of the tourism industry, from shopping, accommodations, dining and transportation all the way through to the most popular tourist sites. The ministry hopes to make the Korean travel experience friendlier and more accommodating toward international tourists visiting the country.
By Lee Hana
Korea.net Staff Writer
Photos: Ministry of Culture, Sport and Tourism
[email protected]