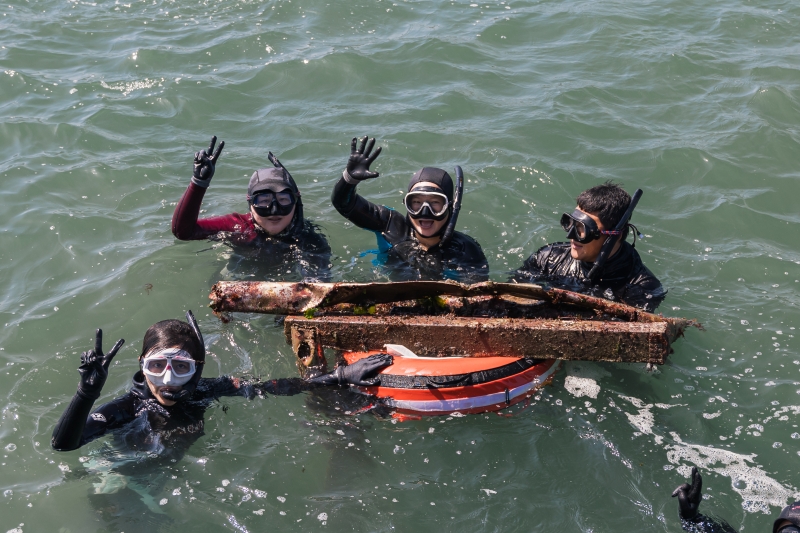 By Kim Hyelin
Video = Jeju Tourism Organization
Ahead of World Environment Day on June 5, the event "E-Run Trip" in which visitors fished out trash from the sea while sightseeing was held from June 2-3 around Udo Island, which is 3.5 km off the coast of Jeju Island.
Debuting in 2021, the eco-friendly tour is hosted by Jeju Special Self-Governing Province and Jeju Tourism Organization. The "E" in "E-run" stands for "eco," meaning that the island is developing the basis for eco-friendly tourism.
Last year, the event became the nation's first to obtain the zero-waste event certification jointly developed by the Seoul-based Institute of Global Sustainability Certification and Italy's Plastic Free Certification.
A Korea.net staff writer visited the program's site.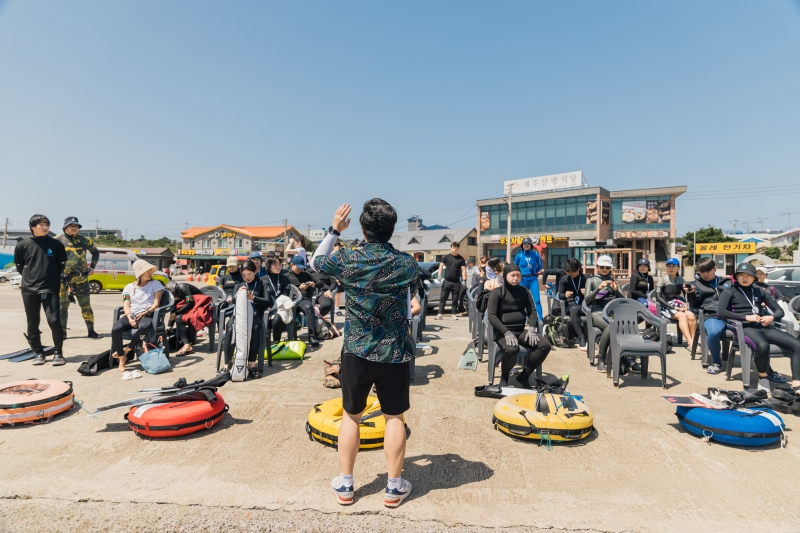 On June 2, the opening day of the event, the weather was cloudy in downtown Jeju City but as participants traveled to the island's eastern section, the sun shone brightly. They gathered at Seongsan Port early in the morning to register at the waiting room's entrance and provided digital signatures pledging to keep Udo clean.
With an area of 5,900 square m, Udo is the largest of Jeju's 63 islands. Boats at the Jeju ports of Seongsan and Jongdal regularly depart for Udo. After a 20-minute ride from Seongsan Port, the participants were greeted by Udo's emerald waters, and while the water sported a beautiful color, it was accompanied by windy weather and high waves.
The underwater cleanup was originally scheduled at Tolkani Beach southeast of Udo but hazardous windy conditions prompted a change to Cheonjin Port, with a shallower average depth. Because the harbor was closed to boats that day, diving was available.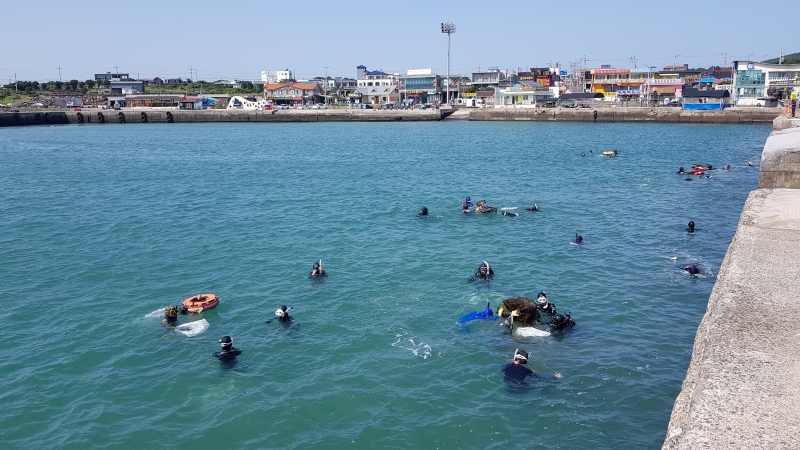 After an orientation at their accommodations, the divers checked their group assignments and went to the port. They took a group photo, warmed up, and donned yellow neck gloves and harnesses, with passing tourists looking at them lining up and jumping into the water.

Working in teams of four, the divers set up a large buoy installed on a fixed position in the water as their base camp and began underwater cleanup. A long weight hanging from the bottom prevented the tube-shaped buoy for free diving from being swept away by the waves, and the participants clung to the buoy to rest or store trash they picked up.
Underwater visibility was 50 cm and the water temperature 21 degrees Celsius. Despite muddy and cold water, the divers picked up all sorts of garbage at the bottom of the harbor, with their cleanup lasting about an hour in a lively and cheerful atmosphere. In addition to large-scale household items like tires, door frames, chairs and iron pipes, they found a lot of discarded fishing gear like traps, rope, and weights and floats.
The combined volume of garbage collected that day reached about 600 kg.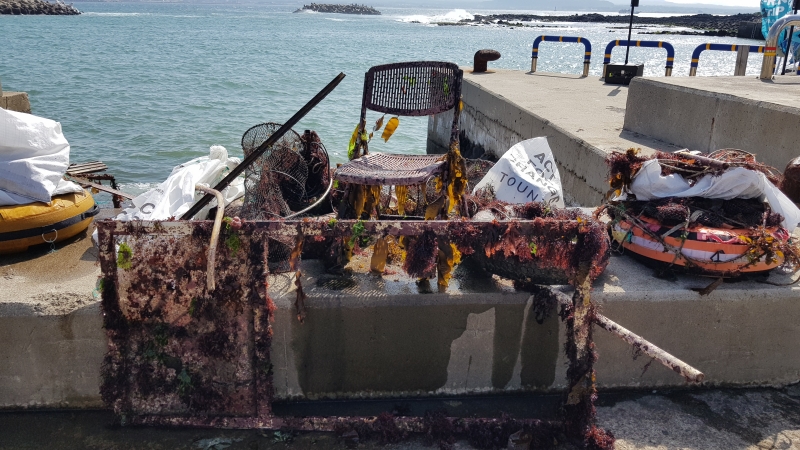 Jeong Ung, who has participated in this trip for three years, said, "I join this event every year to enjoy the beauty of Jeju, and I like its purpose of combining tourism and sustainability," adding, "I hope this trip continues."
"We didn't pick up as much trash as we thought due to the bad sea conditions but it was really fun," said Jeon Hye-yeong, a newcomer to underwater cleanup since obtaining her freediving certification. She added her desire to take part in next year's event.
The Jeju government plans to expand such trips throughout the island and other regions.

So for tourists who place high importance on environmental sustainability, this program is perfect when visiting Korea in summer.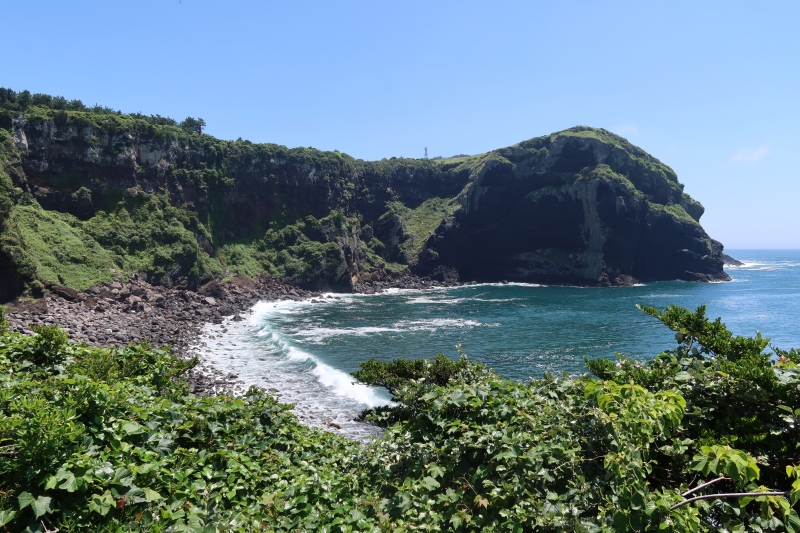 Jeju Island: lab for eco-friendly policy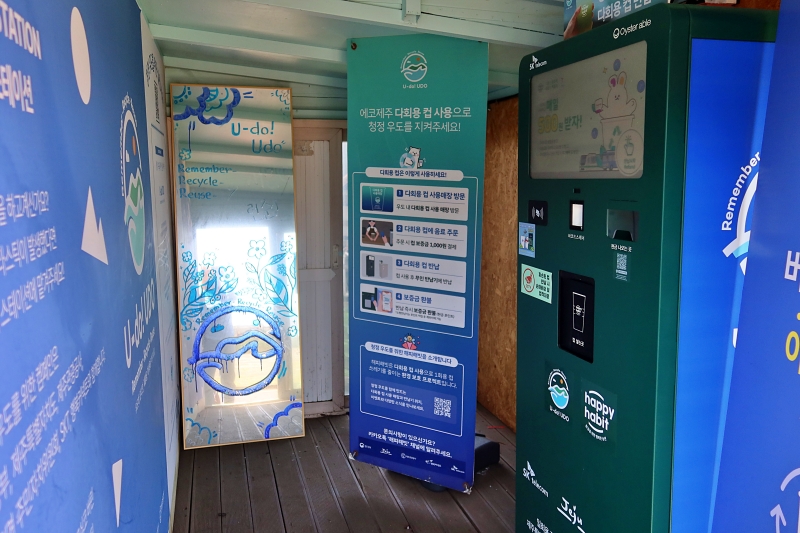 Blessed with natural beauty, Jeju Island is one of the nation's premier tourist destinations and a lab for eco-friendly policy. In 2012, Jeju Special Self-Governing Province announced a plan to make the island carbon free by 2030 and a year later, it became the nation's first region to distribute electric vehicles to the private sector, 160 units to be exact. The scale of the island's eco-friendly projects has since increased every year.
In July 2021, the island banned the use of disposable cups at cafes run by large chains for replacement with reusable alternatives. A customer leaves a deposit when using a reusable cup for a drink and gets it back after returning it to a collecting machine installed at stores or the airport.

Early this year, the province announced a project to eradicate plastic on the island by 2040. To this end, it raised investment in development of a resource recycling system and runs projects to reduce plastic waste including the "U-do! Udo" campaign. The goal is to adopt a plastic reduction system on Udo Island that tourists participate in.

Nine stores on the island have adopted a multi-use cup circulation system, and return machines are installed in three areas with high tourist traffic. To recycle plastic bottles used in tourism, machines for collecting discarded bottles are at the waiting rooms of the ports of Cheonjin and Hawoomokdong as well as facilities dubbed "Clean House" for separating household waste.
kimhyelin211@korea.kr