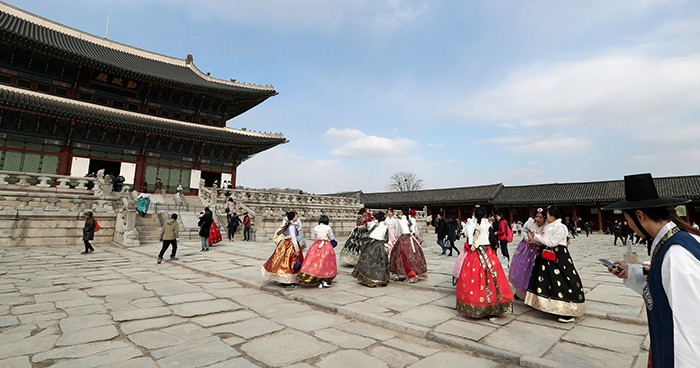 By Xu Aiying and Kim Young Shin 
The Korea Tourism Organization (KTO) released a report on Sept. 5 that analyzed the keyword searches about tourism in Korea that people made all around the world in 2016. The report's data included results from major search engines in English, German, Japanese, French, Spanish, Russian, simplified Chinese and traditional Chinese.
The report looked at the keywords used in searches about Korean tourism in major search engines like Google, Baidu and Yahoo. In English-speaking regions, the word "kimchi" was the most searched for keyword, with 450,000 hits per month on average, followed by "Korean drama," "Seoul" and "Korean movie." In German, the word "kimchi" was also the most searched for keyword. The word "Hangeul" for the Korean alphabet and the name of the folk song "Arirang" were also in the top 10 keywords in German-speaking populations.
In simplified Chinese, the word "Sinchon," a busy university neighborhood in Seoul, was at the top, with a record 32 million clicks per month. In traditional Chinese, people searched for "Demilitarized Zone" the most, with 120,000 clicks per month.
Japanese speakers were mostly curious about "K-pop," while people using French and Spanish were interested in "taekwondo." The pop culture website "Allkpop" (www.allkpop.com) was at the top of the list for Russian speakers.
The top search words differed by language or country, but city names like Seoul and Busan, or common words like kimchi, Hangeul or Hallyu, were also commonly found.
"Korea's representative food, kimchi, was one of the most popular search words all across the world," said Je Sang-won, the head of the International Tourism Information Team at the KTO. "Because there are a vast number of Chinese tourists visiting Korea, Mandarin-speaking populations are interested in names of neighborhoods where they can go shopping, like Sinchon or Myeongdong."