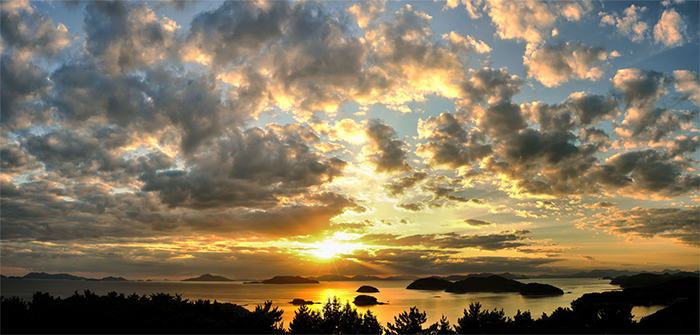 By Kim Young Shin 
Photos = Korea National Park Service
Many Koreans watch the sunset or sunrise on the last or first day of the year to reflect on the past 12 months and welcome the new year.
The Korea National Park Service (KNPS) under the Ministry of Environment recommends six relatively unknown spots for seeing impressive sunsets and sunrises. Far from high mountain peaks, these places are easily reachable by people of all ages within two hours of hiking.
KNPS managers suggested the following three underrated places to watch a brilliant sunset: Dalah Park at Hallyeohaesang National Park in Tongyeong, Gyeongsangnam-do Province; Sambong Beach in Taean-gun County, Chungcheongnam-do Province; and the Buddhist temple of Buseoksa at Sobaeksan National Park in Yeongju, Gyeongsangbuk-do Province.
Dalah Park is the choice of many KNPS managers as the best sunset spot in Korea thanks to the large and small islands scattered on the sea that reflect sunlight. Sambong Beach is off the beaten path for watching the sunset and is also famous for delicacies such as small octopus, blue crab and oyster. Buseoksa, a Buddhist temple set up in A.D. 676 during the Silla Dynasty (57 B.C. – A.D. 935), is where one can observe the sun falling into the gentle ridges.
The estimated sunset time on Dec. 31 is 5:20 p.m. KST at Dalah Park, 5:24 p.m. at Sambong Beach and 5:13 p.m. at Buseoksa.
The managers' three hidden but prime spots for seeing the sunrise are Cheonjedan Peak on Taebaeksan Mountain in Taebaek, Gangwon-do Province; Oksunbong Peak of Woraksan Mountain in Jecheon, Chungcheongbuk-do Province; and Seoseokdae Rock of Museongsan Mountain in Gwangju.
Cheonjedan is a no-sweat hiking destination decorated by frosted flora gleams with a touch of sunrise. Oksunbong can also be reached via an easy trail as the sun rises beyond Chungjuho Lake surrounded by the mountains. Seoseokdae is a sunrise observation point with pillar-shaped joints covered in snow. No need to climb to the summits here to see the sunrise, however, as mid-points such as the passes Jungmeorijae and Jangbuljae also have terrific views.
The sunrise at Cheonjaedan on New Year's Day is slated for 7:36 a.m. and 7:38 a.m. at Oksunbong and Seoseokdae.