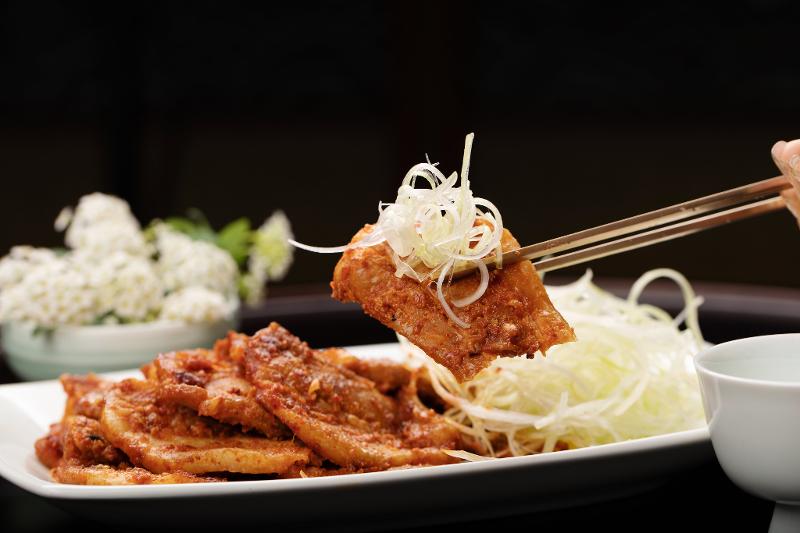 By Yoon Sojung with contribution from Kim Yeonsue
Photos = Kim Sunjoo
Collaborator: Institute of Traditional Korean Food
[Soju and Gaeseong-style dwaeji bulgogi]
Soju, the clear traditional liquor that comes in the iconic green bottle, is widely known to soothe the sorrows of Koreans as shown in many films and TV dramas. The drink has recently received global attention thanks hit Korean content abroad such as the Netflix series "Squid Game."
Soju is so popular that in a Korea.net interview in November last year, then Costa Rican President Carlos Alvarado Quesada expressed his fondness for it. He said even his father asked him to buy the "green bottles."
Yoon Sook-ja, director of the Institute of Traditional Korean Food in Seoul, recommended pairing soju with Gaeseong-style dwaeji bulgogi (marinated grilled pork).
"Samgyeopsal (grilled pork belly) is often considered the most popular side dish to pair with soju, but other forms of pork also go well with the beverage," she said.
"Because soju has a high alcohol by volume (ABV), it goes well with foods high in protein such as beef, pork or chicken to put less burden on the stomach and help detoxification from alcoholic beverages," she added. "Gaeseong-style dwaeji bulgogi also earned highly favorable responses from people at Korean food festivals overseas."
The dish uses the same pork belly as in samgyeopsal. The pork is made by cutting the greasy pork belly section, marinating it with a sauce made of fermented shrimp and chilly red pepper paste, and grilling over a charcoal fire. The director said the food goes well with soju or other beverages with high ABV because it protects the stomach and intestines when high protein food is consumed with strong alcoholic beverages.
"In the West, many eat cheese when drinking strong alcoholic beverages," Yoon said. "By doing so, the food can protect the stomach and intestines before drinking starts."
She said Gaeseong, her hometown and now a North Korean city near the inter-Korean border, was famous for pork cuisine, adding that city residents loved a variety of pork dishes ranging from braised, stewed and steamed to sliced, even adding moksal (pork neck) to samgyetang (ginseng chicken soup).
[Beer and Gaeseong-style stuffed cucumber]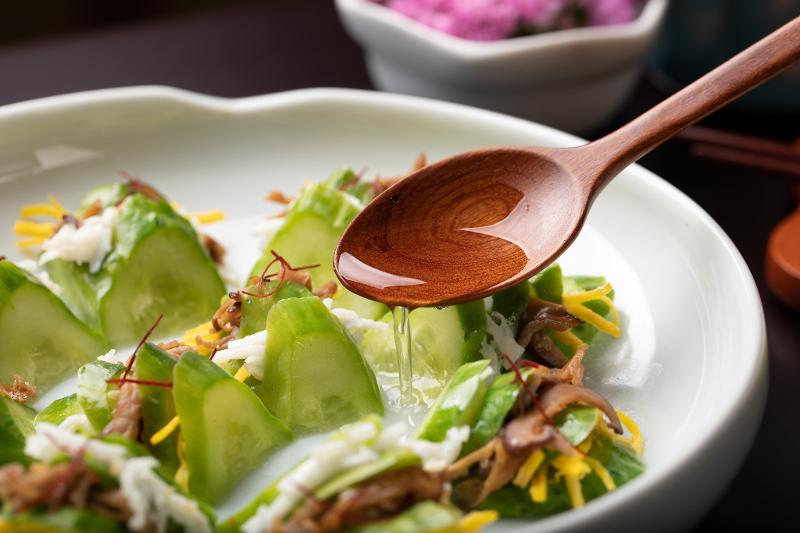 Oiseon (stuffed cucumber) is a great pairing food for beer as recommended by Yoon. This dish received global media attention in 2018, when it was served at a luncheon for North Korean leader Kim Jong Un and then U.S. President Donald Trump in Singapore while both leaders held a summit.
Oiseon is made of cucumber with cuts being filled with thinly sliced beef and black forest mushrooms. To cook the dish, the cucumber is first put in boiling water with a pinch of salt for a few seconds to create a light and clean taste. It is later stuffed with pine nuts and slices of mushrooms, fried eggs and thin beef pieces in its cuts. A sauce made of vinegar and sugar is poured on the cucumber to add a sour taste. The Gaeseong-style oiseon Yoon made this time was characterized by its diagonal cuts.
"Beer's sparkling and tangy taste harmonizes with the sour taste of the dish, boosting the taste of both," Yoon said. "Oiseon has a lot of moisture and potassium as an alkaline food."
She explained that the body excretes potassium when people drink a lot, adding, "Eating cucumber helps discharge salt and other bodily waste, making the body feel lighter and replenishing potassium, which is good for nutrition."
arete@korea.kr