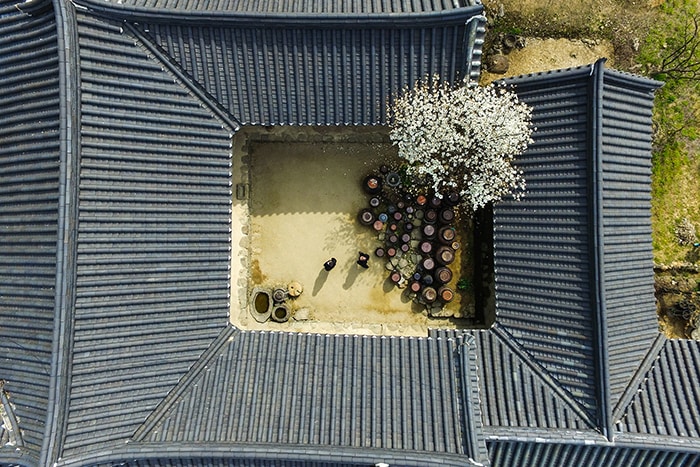 Magnolias show off their graceful colors. They seems to be fully enjoying the spring air as they stand next to a collection of jangdok, ceramic jars that contain traditional sauces and condiments. The giwa, the traditional tiled roofs, surround the magnolia tree and the urns and act as a photo frame. This is Unjoru House (운조루, 雲鳥樓), a traditional Hanok house in Gurye-gun County, Jeollanam-do Province. Its name means "a house where people can hide, just like birds do that live inside the clouds." Unjoru House is known for its well-preserved traditional Hanok characteristics, emblematic of the yangban upper class of late Joseon times.
The photo is titled "Spring in Unjoru" and was the winner in this year's Korea Tourism Photo Contest. The contest was jointly held by the Ministry of Culture, Sports and Tourism and the Korea Tourism Organization.
Marking its 44th year this year, the contest was held from June 13 to 30. The theme this year was "Five K-keywords," which were: K-food, K-wave, K-spirit, K-place and K-style. A total of 8,334 photos were submitted to the jury.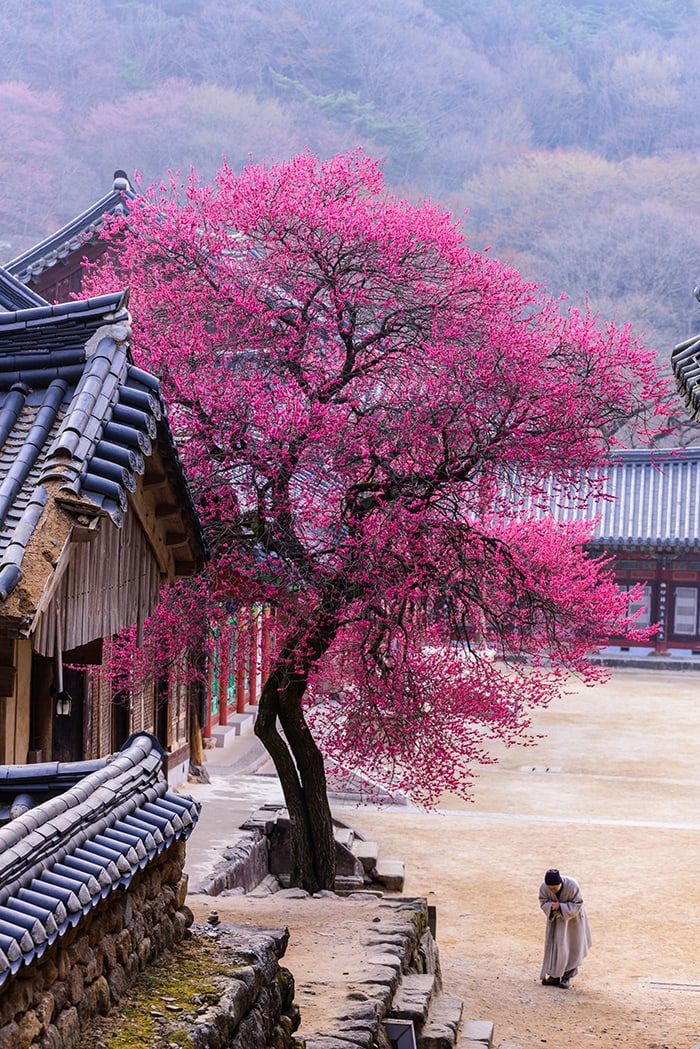 The gold prize went to "Red Apricot Blossoms at Hwaeomsa Temple," which shows a red apricot tree in full bloom in the spring at the temple in Gurye-gun County, Jeollanam-do Province.
A new category was included in the event this year: the PyeongChang Winter Olympics. The winner in this category was a photo of the Daegwallyeong Sheep Farm in winter, which won the overall bronze prize.
In a special category for non-Koreans, Ding Haixiao from China won with his photo of the Noryangjin Fish Market in Seoul.
One of bronze prize winners captured people at a temple who were preparing rice balls for some patjuk (팥죽) red bean porridge ahead of the Dongji festival, one of the 24 solar terms of the year and which usually falls in December.
Other winning pictures mostly snapped picturesque sights of Korean landscapes, such as "Spring Scenery in Bangokji" and "Meals for Magpies."
The nine prize-winning photos will be used to promote Korean tourism across various channels.
You can see the winning photos at the KTO's online photo gallery. http://gallery.visitkorea.or.kr
By Yoon Sojung
Korea.net Staff Writer
Photos: KTO
[email protected]