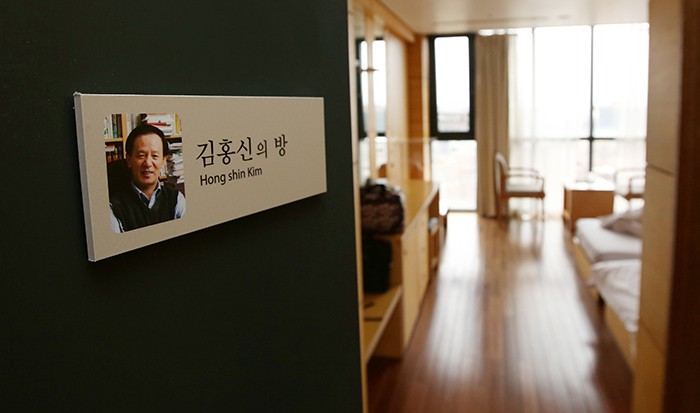 Nowadays, there are small, easy-to-come-by libraries right next door to us in our neighborhoods. The thinking behind libraries has been transformed, however, from just a place to read into a place where people can read, eat and even stay the night.
Less than a one hour drive from central Seoul brings you to a "book hotel" in a serene, quiet town. The "Forest of Wisdom" in Paju Book City, Gyeonggi-do Province, is a cultural complex entirely devoted not only to the publication and sale of books, but also to providing a site for book lovers to read a variety of publications. It even houses a hotel called the Jijihyang. The name Jijihyang (지지향, 紙之鄕) means "a home for paper."
Opened in April 2007, the Jijihyang hotel is the one and only overnight accommodation available in the "book city." It was originally built to serve people working in publishing industry training programs. Now, however, it welcomes any guest who would like to be completely engrossed in reading during their trip to the Forest of Wisdom. Jijihayng serves as a perfect overnight getaway, especially for avid readers.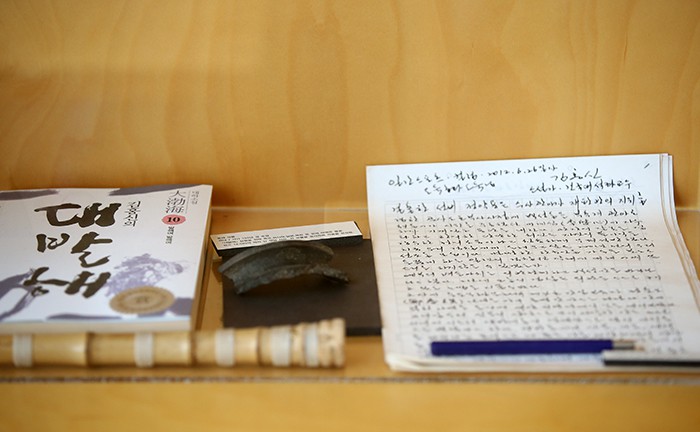 The five-story hotel holds a total of 79 rooms. Entering the facility, book lovers find themselves surrounded by books, from the check-in desk all the way to the end of the hallways that lead to the rooms. Such encounters with books continue inside the rooms. Welcoming guests is a series of tomes placed on the desk and the shelves, bathed in sunlight near the windows. This makes visitors want to crack one of the books before even unpacking.
What distinguishes these lodgings from other hostels or business hotels is that there are no TVs. The absence of TVs naturally allows guests to read or chitchat with their friends about the books they're reading.
The top floor is home to the Author Rooms. On Thursday, Jan. 28, as the door to the Kim Hong-shin Room opened, the first thing to catch the eye were the shelves filled with his novels and even some small notes and manuscripts that Kim himself jotted down while writing out his ideas and stories.
Reading one after the other of the handwritten manuscripts, and flipping through one book after the other, gives you the feeling that you're peeping into the author's mind and visiting his study and seeing his bookcase first-hand.
There are rooms for other representative literary figures, too, including Park Wansuh, Park Bum-shin and Kim Hoon, as well as for poet Ko Un. Since so many visitors book these Author Rooms, reservations need to be made in advance.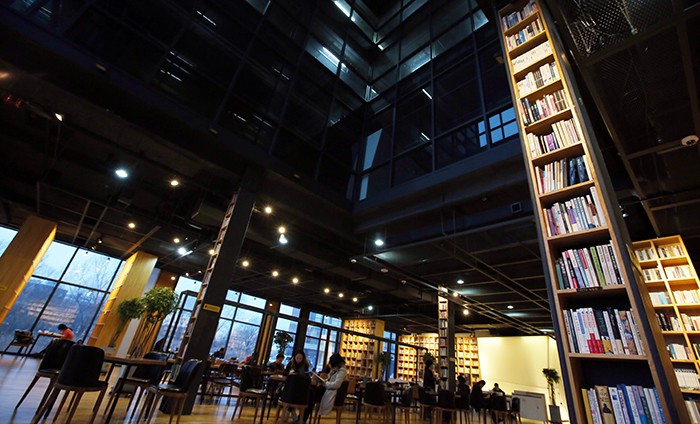 Taking an elevator down to the first floor leads to a round-the-clock library, a space that constitutes one third of the Forest of Wisdom. When the first and second sections close earlier in the evening, the third section remains lit 24 hours a day. There are countless books, all donated by publishing companies, lining the bookcases that trace up the walls. People read on sofas late into the night here. As dawn approaches, they seem to lose track of time, lost deep in the serenity and contemplation of their books.
Feeling free to choose any book on any subject, with no limits on time, and being able to head straight upstairs to lie down in the land of Nod whenever they please: these are the reasons that this place has a constant flow of visitors.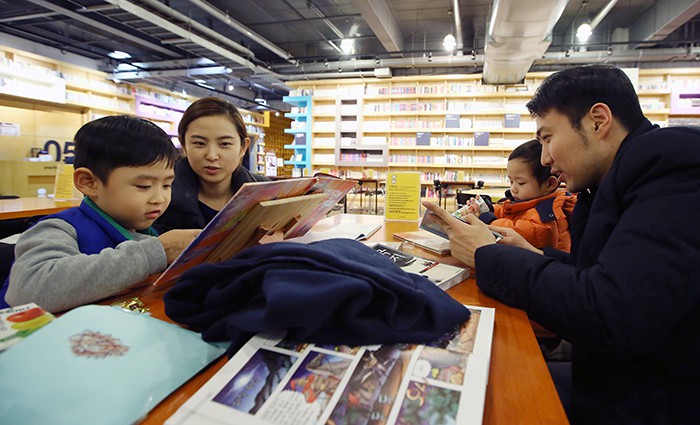 Among the readers was Hyun Kyung-hwa who traveled from Mok-dong, Seoul, with her husband and two sons. "Although there are some libraries in my neighborhood, we often bring our children here on the outskirts of Seoul, as my sons can read a variety of books amid such a quiet atmosphere while wandering around and freely looking around for good books," Hyun said. "This is a really great place for reading. We can come by and leave anytime and let our children know how pleasing reading can be."
Lee Ho-jin, manger of planning and PR at the Bookcity Culture Foundation, said, "Jijihyang, as it means 'the birthplace of paper books,' gives you a genuine getaway with books. A rising number of families and tourists are coming here on their vacations to experience this 'book-stay.' Room rates vary with size, from KRW 120,000, to KRW 130,000 and KRW 140,000. You can also enjoy galleries, a cup of coffee at a cafe, grab a bite at a restaurant or shop for second-hand books."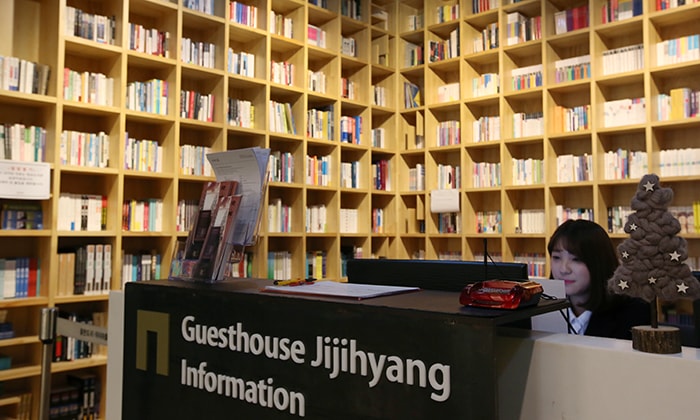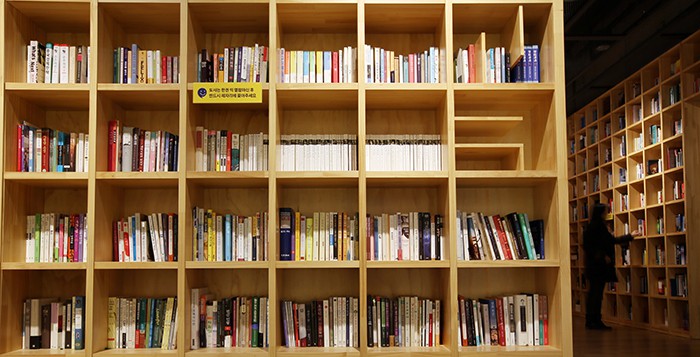 * How to get to the Jijihyang hotel:
If you travel by public transport, leave from exit No. 2 of Hapjeong Station on subway line No. 2 and get on either bus No. 200 or 2200 in front of the exit. Get off at the Paju Book City stop. It will take about 30 to 50 minutes.
If you drive, type in "Asia Publication Culture & Information Center, Hoedong-gil Street 145, Paju-si, Gyeonggi-do Province" into your navigation software (경기도 파주시 회동길 145 아시아출판문화정보센터).
* The Jijihyang hotel's official website:
http://pajubookcity.org/jijihyang/
By Sohn JiAe
Photos: Jeon Han
Korea.net Staff Writers
[email protected]