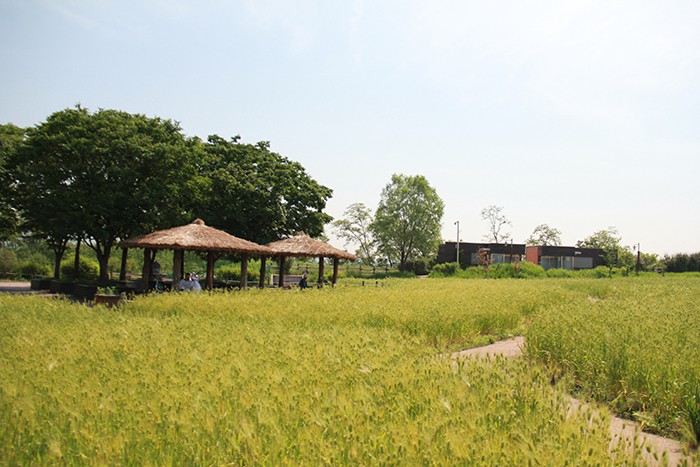 The heat of summer has arrived at Haneul "Sky" Park, the grasslands that sit atop the highest plateau of the World Cup Park, from where you can enjoy spectacular views of Seoul.
On a sunny day in May, the park's fresh fields of silver grass dance in the breeze, rippling gently in hues of yellow and green. Beyond the fields, along the horizon, lie stretches of shorter green grass. The sky is blue without a single low-hanging cloud.
Following a meandering path between the waves of silver grass, you arrive at a bowl-shaped observatory, aptly named the "Bowl Full of Sky." From here, a panoramic view of Seoul unfolds before your eyes. To the north rises Bukhansan Mountain, while to the east you can see the World Cup Stadium, Namsan Mountain and the N Seoul Tower in the far distance. To the south flows Hangang River, and to the far west you glimpse the outline of the Haengjusanseong Fortress (행주산성, 幸州山城) in Goyang City, Gyeonggi-do Province.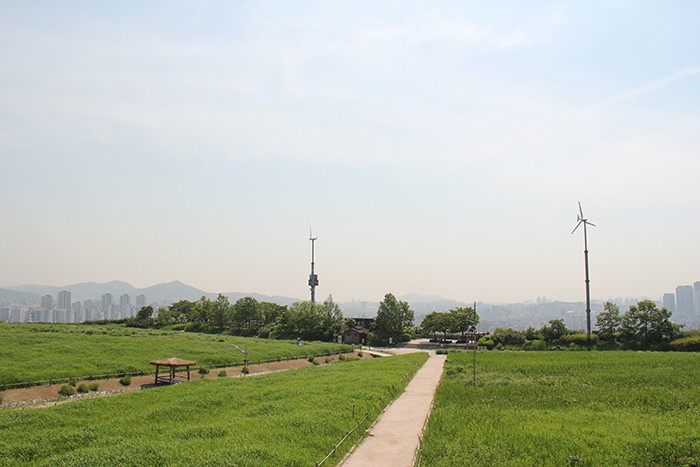 Along the outskirts of the park are tall oaks that provide much-needed shade from the sun. From the wooden decks under the shade, you can see the Hangang River and the city's skyscrapers rising up along the riverbank. The Seongsan and Yanghwa bridges stretch over the north and south banks, locking the city together. Beyond the Yanghwa Bridge, you can almost make out the silhouette of the dome that caps the National Assembly building on Yeouido Island.
During the summer, it's recommended that you visit Haneul Park in the early evening. After watching a beautiful sunset, you'll get to see hundreds of lights turn on, one by one, to illuminate the night sky.
In May, the park stays open until 9:30 p.m. and from June through August until 10:00 p.m. Visitors are allowed to enter the park until 30 minutes before closing time.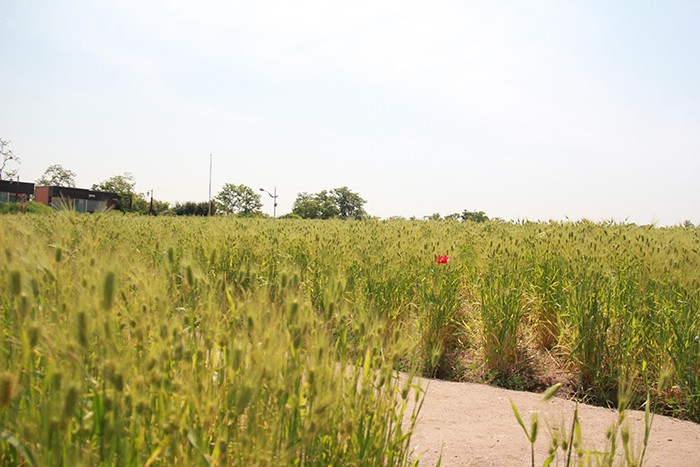 Article and photos by Lee Hana
Korea.net Staff Writer
[email protected]
Directions to Haneul Park
By subway:
Get off at World Cup Stadium Station on line No. 6 and head out of exit No. 1. Walk straight along the main road and turn right. Cross the street and take the overpass toward the park entrance. You will then find yourself at the base of the park's "Stairway to Heaven."
By bus:
Buses No. 271, 571, 7011, 7013, and 7715 stop in front of Haneul Park.