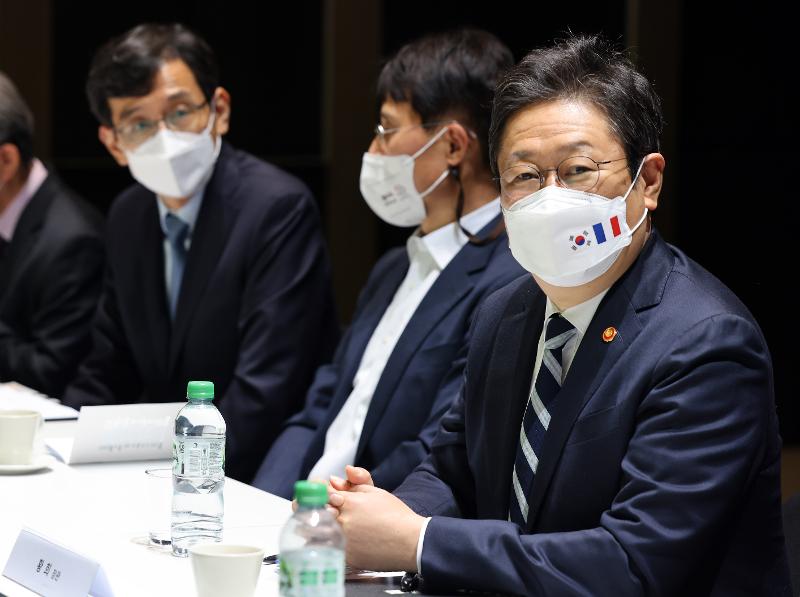 By Kim Hayeon
Photos = Minister of Culture, Sport and TourismThe government will strengthen efforts to spread Hallyu (Korean Wave) content led by Korean Cultural Centers (KCC) abroad.
The Ministry of Culture, Sports and Tourism said Minister Hwang Hee from Nov. 15-16 at the KCC in Paris will attend a meeting of KCC directors and senior public officers in 13 European countries to discuss jumpstarting the spread of Hallyu.
Convened by the ministry affiliate Korean Culture and Information Service (KOCIS), the conference covers the implementation of the plan "Hallyu Outbound Activation," which is part of innovative strategies to help the content industry recover from COVID-19 approved by a government committee on content industry promotion.
The event will also examine the KCCs in the U.K. and Belgium, two centers that were hailed this year as "excellent institutions" in a leading KCC project for video assessment.
The first day focused on cooperative ways to work with Korean institutions overseas, including KCCs, Korea Creative Content Agency and Korea Tourism Organization for effective promotion of Korean cultural content.
Minister Hwang on Nov. 15 discussed with his French counterpart Roselyne Bachelot at the French Ministry of Culture promoting bilateral friendship and strengthening cultural cooperation on the occasion of the 2024 Paris Summer Olympics.