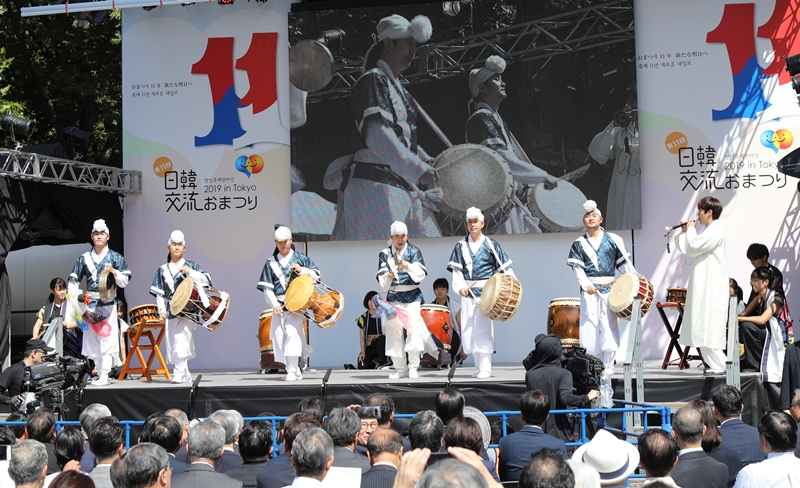 By Kim Eun-young and Lee Jihae
Photos = Korean Cultural Center in Tokyo
The annual Korea-Japan Festival was held this year despite frayed relations between the governments of both countries.
The Korean Cultural Center in Tokyo on Sept. 30 said about 72,000 people attended the festival that ran from Sept. 28-29 at the city's Hibiya Park, the second-highest attendance since the first hosted by Japan in 2009.
Seoul hosted the inaugural event in 2005 to commemorate the 40th anniversary of bilateral ties, and the festival has been held in both countries since 2009. Whether this year's event would take place had remained unclear due to Japan's economic retaliation against Korea, but figures in the arts and culture circles of both nations decided that civic exchanges were all the more necessary in times of tension and thus pressed ahead.
Divided into four parts, the festival was held under the slogan "A festival of 11 years and a new tomorrow" and featured traditional arts and cultural performances, K-pop concerts and more.
The festivities began with a joint traditional drum performance by both countries, followed by demonstrations of "taekwonmu," a combination of taekwondo and dance, and karate, music by a Korean orchestra comprising musicians with developmental disabilities, a quiz on cultural exchanges between the two countries, K-pop concerts and cover dances.
Booths also allowed visitors to try on traditional attire and sample food of both nations and other events allowed people to form solidarity by discussing Korea-Japan relations or travel in the two countries.
Vice Minister of Culture, Sports and Tourism Roh Tae-kang said in a speech at the opening ceremony, "The Korea-Japan Festival is an important cultural asset to be maintained and further developed."
"I hope people have pride in bilateral cultural exchanges and look toward the future."
Japanese Minister of Land, Infrastructure, Transport and Tourism Kazuyoshi Akaba said, "Korea is a benefactor country that brought culture to Japan."
"If civic exchanges remain active irrespective of the tension between the two governments, the friendly relationship between both countries will not be shaken."