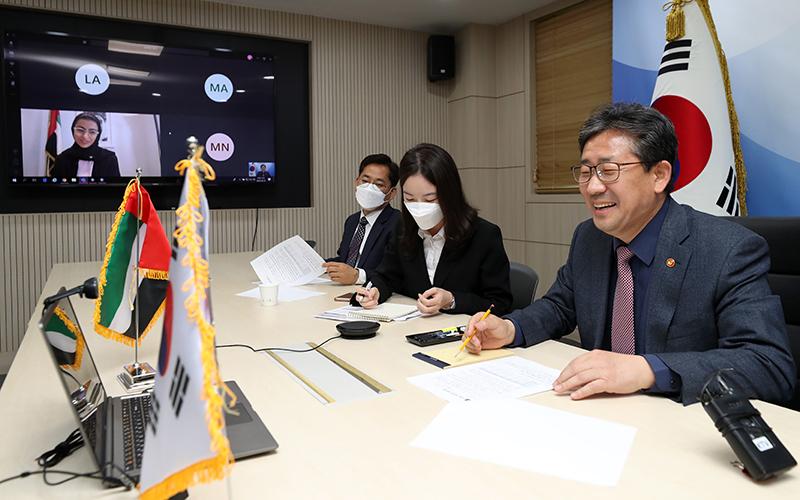 By Lee Hana
Minister of Culture, Sports and Tourism Park Yang-woo on April 23 held a videoconference with United Arab Emirates (UAE) Minister of Culture and Knowledge Development Noura Al Kaabi on handling the COVID-19 pandemic and extending the 2020 Year of Korea-UAE Cultural Exchange to next year.
Minister Al Kaabi said, "This morning, I was deeply impressed when I put on a mask made in our ally Korea," adding, "As such, Korea is responding quickly, accurately and transparently to COVID-19, and the whole world wants to learn about it. This includes the UAE."
Minister Park said, "Korea, under the principles of openness and transparency and without restrictions on the movement of people and goods, is finding creative ways to trace patients and those they've been in contact with, including drive-through screening."
"And despite a more favorable situation in COVID-19 through stronger social distancing, we're keeping our guard up while rapidly responding to newer challenges such as cases being imported into the country."
He said, "The mutual trust and friendship we shared during this crisis have brought our two countries closer together," adding, "We will try create social momentum to help overcome the pandemic through arts and culture."
Meanwhile, both ministers agreed to extend to next year the 2020 Year of Korea-UAE Cultural Exchange, planned in December last year to celebrate the 40th anniversary of bilateral relations, since cultural events cannot be held at this time.
A K-pop festival slated for the first half of the year in Abu Dhabi will be delayed to November. And to stimulate bilateral cultural exchange, an exhibition of modern Korean art is slated from August to October and a taekwondo demonstration in October in the UAE, though both sides will closely monitor the pandemic situation before proceeding with both events.