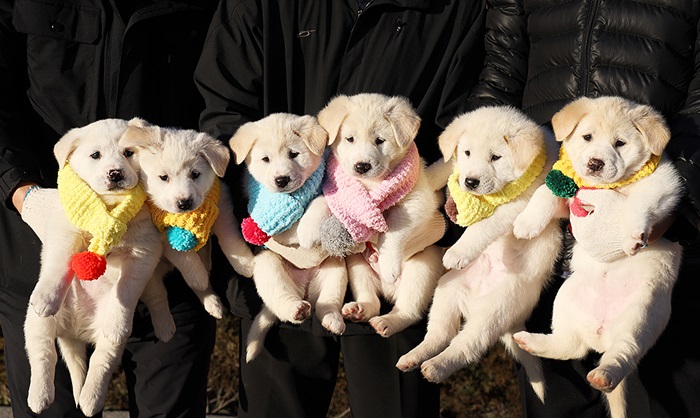 By Oh Hyun-woo and Yoon Sojung
Influential figures from in and out of the country sent Christmas messages on Dec. 25 to wish for peace and reconciliation on the Korean Peninsula.
President Moon Jae-in, in a Christmas greeting posted on his Facebook account, quoted activist poet Park Nohae's "A Poem of That Winter."
"The grandmother's heart is the heart of Jesus Christ. I hope my happiness can become happiness for all," the message said.
In addition, Cheong Wa Dae posted a photo of six puppies born to Gomi, one of two Pungsan breed dogs North Korean leader Kim Jong Un sent to the president as gifts.
"We would like to offer you a photo of six puppies running on the garden of Cheong Wa Dae as a Christmas present," said the presidential office.
"We hope all of you have a happy and joyful Christmas just like these white, cheerful puppies."
Reflecting the warm and peaceful atmosphere on the Korean Peninsula, Pyeongyang also sent a Christmas greeting to Seoul.
The North Korean Council of Religionists (KCR) sent its first-ever Christmas video message to the National Council of Churches of South Korea.
The video contained images of a handshake between South Korean Unification Minister Cho Myoung-Gyon and Ri Son Gwon, chairman of the North's Committee for the Peaceful Reunification of the Country, and scenes from the PyeongChang 2018 Winter Olympics. Afterwards, KCR President Kang Ji Yong was shown praying and preaching to Pyeongyang residents for the peaceful reunification of the peninsula.
The video also contained a message saying, "The historic adoption of the Panmunjeom Declaration and the September Pyeongyang Joint Declaration helped us begin a new journey toward reconciliation and unity of the Korean people, peace and prosperity."
"The implementation of the joint declarations will be the common calling and obligation of every one of us."
In Vatican City, Pope Francis sent a Christmas message from St. Peter's Basilica to the world emphasizing peace and fraternity, hoping for peace on the Korean Peninsula while blessing the efforts of "all those who work to promote paths of reconciliation in political and social life."
"May Christmas consolidate the bonds of fraternity uniting the Korean Peninsula and help the path of rapprochement recently undertaken to continue and to reach agreed solutions capable of ensuring the development and well-being of all," he said.
hyunw54@korea.kr