[Balanced Development]
Interviewing leaders | #3. Jeju Special Self-Governing Province
Balanced national development is the government's key challenge in the government's drive to solving issues Korea faces such as low economic growth, wealth polarization, the low birth rate, and developmental and economic disparity in the provinces.
President Moon Jae-in said in February last year at a proclamation ceremony for balanced national development, "Based on decentralization, engagement and innovation, regions can be the main agent and lead balanced development."
Korea.net is exploring the status of areas set to benefit from the balanced development campaign.
The following are excerpts from the interview.
By Kim Young Deok and Kim Minji
Photos = Jeon Han
Jeju-do | March 22, 2019
"Jeju-do for the coexistence of humankind and nature"
This is Jeju Special Self-Governing Province's vision for its 2019 Balanced National Development Project. Unlike other municipal or provincial authorities in Korea emphasizing innovation, future and economy, the island stresses a clean environment as its core value.
Jeju-do Island Governor Won Hee-ryong, in a March 21 interview with Korea.net, highlighted how his province can develop with its largest resource, the natural environment through two ambitious projects: Carbon Free Island Jeju by 2030 and Specialized Electric Vehicle Zone.
With few industrial areas, Jeju-do relies on a clean environment as its economic driving force that also promotes tourism and renewable energy.
The following are excerpts from the interview.
-What is Jeju-do Island's vision for its 2019 Balanced National Development Project? 
Jeju-do is a tourism hub visited by 15 million people annually. Our slogan aligns with our goal to develop the island into a hub for healing and space to experience nature.
-Do you have a specific policy toward maintaining a clean environment?
A clean environment is our largest resource and we're responsible for preserving it. As part of our efforts, we're building a special zone for electric vehicles and planning to make the island carbon-free by 2030.
-When will Jeju-do become an island of clean energy?

By 2030, we aim to have converted all of our energy resources into new and renewable energy sources such as wind, solar and bio. We also have 16,000 registered electric vehicles, the most among the country's 17 cities and provinces.
Another project is "zero-energy buildings" to minimize energy consumption and achieve our goal of being carbon-free by 2030.
Moreover, the Carbon Free Island Jeju by 2030 project was introduced by the Paris Climate Change Accord in 2015, and is considered by the United Nations as applicable to 2,500 areas and islands worldwide.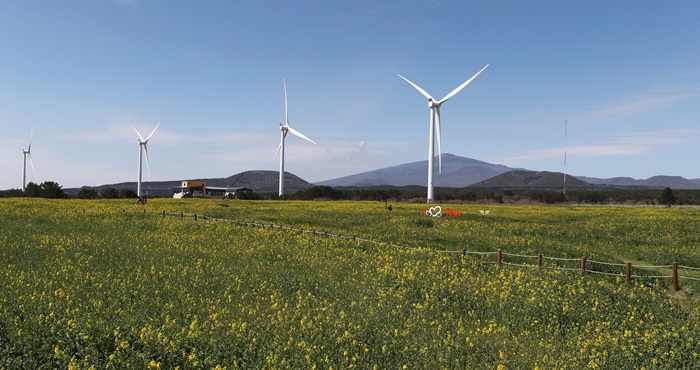 -What is your province's goal for its clean environment campaign?

Development based on eco-friendly energy will make Jeju-do a place for experiencing nature. We will serve as a new model of regional development, especially in renewable energy and tourism.
We're also building Jeju Free International City, a project run by the central government to make our island a worldwide tourist attraction. We also hope to become a tourism hub in Northeast Asia.
-What are Jeju-do's major advantages?

We became a self-governing province in 2006 under the Special Act on Jeju Special Self-Governing Province, which allows us to have considerably lower regulation than other areas. And because we're an island, companies can start a new project or business without worrying about side effects spreading to other areas.
In this aspect, Jeju can be considered the first successful example of a deregulated special zone. Our clean environment and deregulation benefits make us competitive.
Jeju-do also has a visa-free policy for foreign visitors, and we're trying to provide more support to attract talented IT workers from overseas. We will continue highlighting Jeju's advantages of geopolitical location and special benefits and policies to contribute to national development.
-What is your goal for balanced development?

A clean environment and our status as a regulation-free and special self-governing province are Jeju-do's two most significant advantages. Our goal is to promote the island as a place where people and nature coexist.