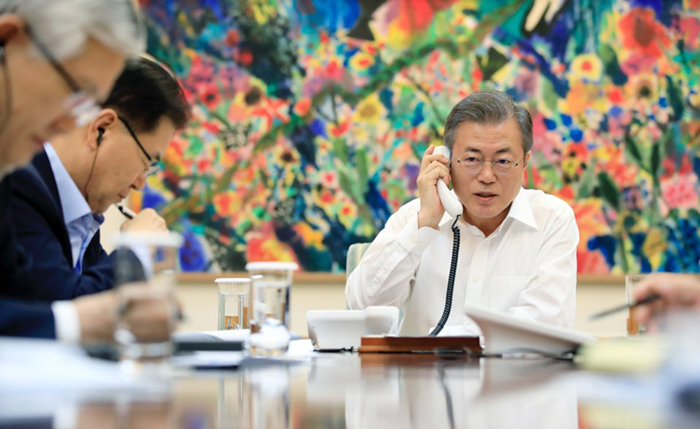 By Kim Young Shin 
President Moon Jae-in's special envoys to North Korea arrived in Pyeongyang at 9 a.m. on Sept. 5.
The special envoys are Chief of the National Security Office Chung Eui-yong, National Intelligence Service (NIS) chief Suh Hoon, Vice Unification Minister Chun Hae-sung, Senior NIS official Kim Sang-gyun and Presidential Secretary for State Affairs Yun Kun-young. They will deliver President Moon's letter to North Korean Chairman of the State Affairs Commission Kim Jong Un and discuss the upcoming inter-Korean summit that will take place later this month in North Korea's capital. They will also talk about denuclearization negotiations to help break the current deadlock.
The night before they left, the president had a phone call with his U.S. counterpart, President Donald Trump, and explained the special envoys' mission in North Korea. Their prior phone call was 84 days ago when they discussed the June 12 NK-U.S. summit in Singapore.
"The special envoys will prepare for the upcoming inter-Korean summit and help bring denuclearization and lasting peace on the Korean Peninsula," said President Moon.
"Now is a critical time to create peace in the region, which can only come with complete denuclearization," he said. "The improvements in inter-Korean ties and the easing of tensions on the Korean Peninsula will contribute to denuclearization and to a lasting peace."
According to Cheong Wa Dae spokesperson Kim Eui-kyeom, President Trump said that he wishes the best of possible outcomes for the special envoys' visit to the North, and that he eagerly awaits the results.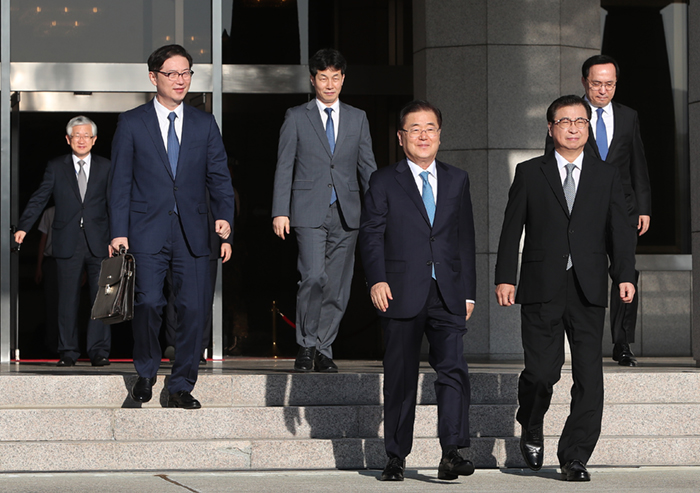 ysk1111@korea.kr