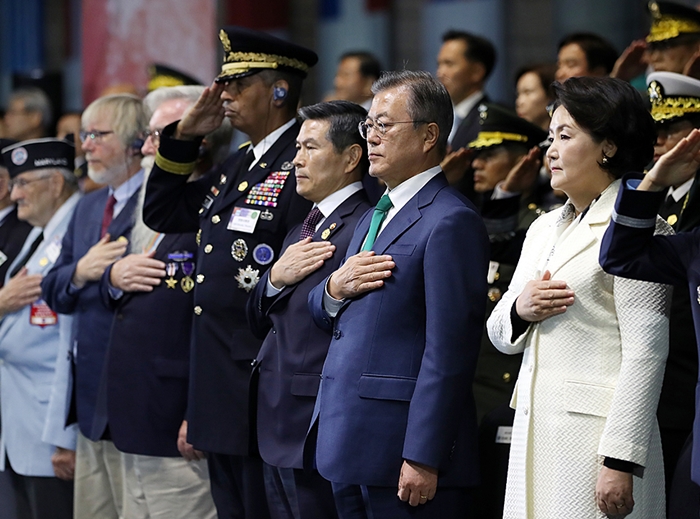 By Kim Hyelin and Yoon Sojung
Photos = Cheong Wa Dae
President Moon Jae-in emphasized the significance of a strong military in his speech to mark the 70th anniversary of Armed Forces Day on Oct. 1.
"Peace through strength is the mission of our Armed Forces, and a genuine protagonist in an era of peace is none other than a strong military," he said at the ceremony that took place in the evening at the Peace Plaza of the War Memorial of Korea In Yongsan-gu District, Seoul.
"Announcing the Pyongyang Joint Declaration on September 19, Chairman Kim Jong Un and I made clear that war would not come between the South and North and peace would be settled on the Korean Peninsula," he said.
"Before 150,000 Pyongyang citizens, I promised a peaceful Korean Peninsula free of nuclear weapons and threats," said the President.
"In spite of this, peace will not come all at once. We must not forget the fact that peace is sustainable when our strength serves as its foundation," he added.
President Moon emphasized the importance of the soldiers by saying that, "The key to a strong military is each and every member of the Armed Forces."
"When our men and women in uniform are respected without any discrimination and feel proud of the nation and the military in a genuine sense, they will be equipped with courage and devotion."
In order to make the Armed Forces "unmatched not only in combat strength but in terms of democracy," he vowed to provide career development and customized support, and to expand recruitment of discharged personnel as police officers, coast guard officers and firefighters, and to remove discrimination between male and female soldiers.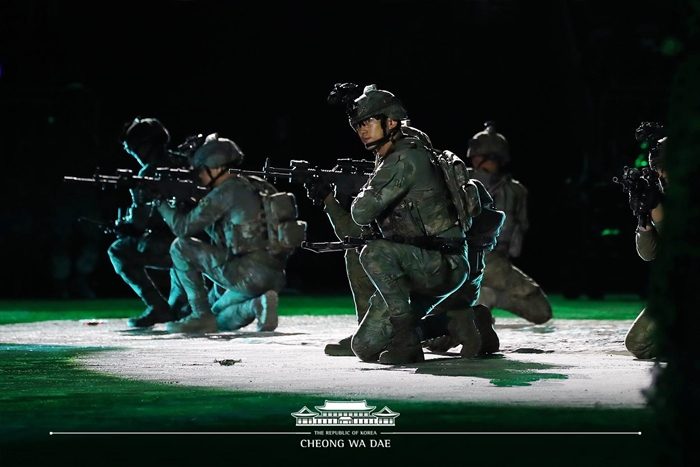 The theme of the ceremony was "A reliable military that backs peace on the Korean Peninsula."
It was attended by approximately 3,500 people. Besides the President and First Lady, the participants included Minister of National Defense Jeong Kyeongdoo, Commander of U.S. Forces Korea Vincent Keith Brooks and war veterans from both Korea and overseas.
For the first time since the first Armed Forces Day in 1956, the evening event was a festival for the people. The Day did not include a large-scale military parade featuring troops and armored vehicles, which used to be the central event of the celebration. Instead, singer Psy performed and an air show of aerobatic flight team of the air force captured the visitors. The ceremony was aired live. At the end of the program, the soldiers who attended the ceremony enjoyed meeting the guest singers.
President Moon explained the reason the government simplified the celebration of Armed Forces Day by saying, "This can be explained in terms of the peaceful atmosphere on the Korean Peninsula, but, it should also be interpreted by the soldiers' view."
Cheong Wa Dae Spokesperson Kim Eui-kyeom quoted President Moon who said, "Soldiers have to prepare for the event from April and the special forces also need to go through a tough drill for a few months, but Armed Forces Day should be a day for the soldiers themselves."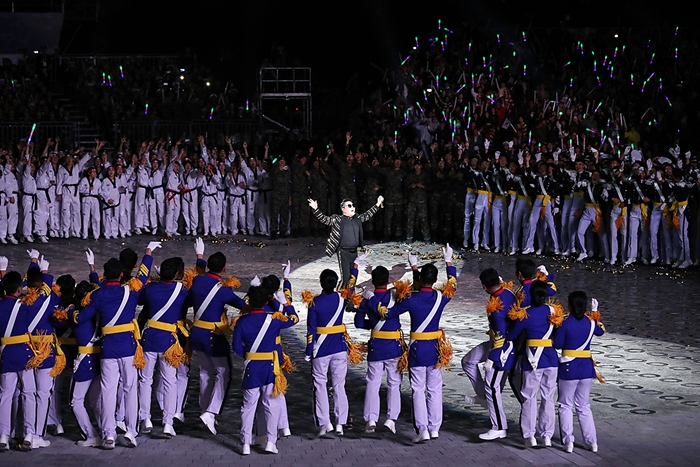 kimhyelin211@korea.kr
Click the URL below to read the full speech.
http://www.korea.net/Government/Briefing-Room/Presidential-Speeches/view?articleId=163940&pageIndex=1