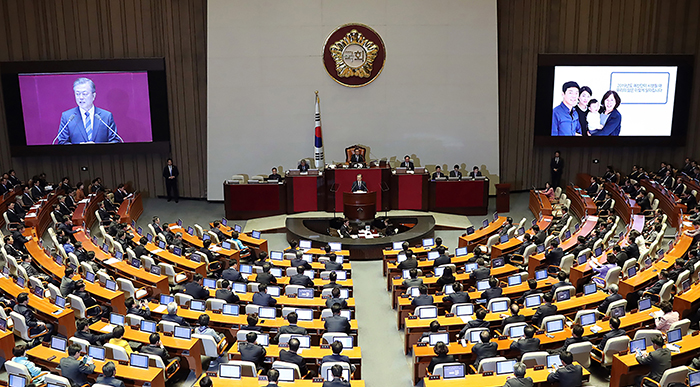 By Min Yea-Ji and Yoon Sojung
President Moon Jae-in on Nov. 1 emphasized peace on the Korean Peninsula and "an inclusive nation in which all people prosper together."
In his speech to parliament, the president asked for the National Assembly's cooperation in passing the government's proposed budget for 2019.
"Right ahead of us lies a historic starting line leading to common prosperity on the Korean Peninsula and in Northeast Asia," he said, citing the second North Korea-U.S. summit this year and the planned reciprocal visit of North Korean leader Kim Jong Un to Seoul.
Dubbing the opportunity "a miracle never to be missed," President Moon said, "I ask the National Assembly to join efforts toward the denuclearization of and the peace process on the Korean Peninsula, for which our Government and the U.S. Government are working together with North Korea."
He underscored the importance of developing "an inclusive nation" as another axis that sustains the country.
"The World Bank, (International Monetary Fund), (Organization for Economic Cooperation and Development) and many other international organizations and countries have already begun to talk of inclusiveness," the president said.
"They advocate welfare, a fair economy and inclusive growth in which the resulting gains are distributed equally to everyone and income increases among mid- to low-income earners."
"An inclusive state in which all people prosper together – this is the path we should take and the calling of this time entrusted to my Administration," he said.
Calling next year's budget "an important first step toward becoming an inclusive nation," President Moon said the proposed budget is aimed at creating jobs, pushing innovative growth, increasing household income and expanding the social safety net.
"My administration will help everyone achieve their dreams through jobs and push ahead with innovative growth in earnest," he added.
"Priority has been placed on supporting the socially vulnerable for becoming an inclusive society as well as expanding the social safety net."
He also said "considerable emphasis" has gone toward efforts to improve public safety and quality of life in line with the country approaching per capita income of US$30,000.
Click the link below to read the full text of the speech.
http://www.korea.net/Government/Briefing-Room/Presidential-Speeches/view?articleId=164960&pageIndex=1

jesimin@korea.kr