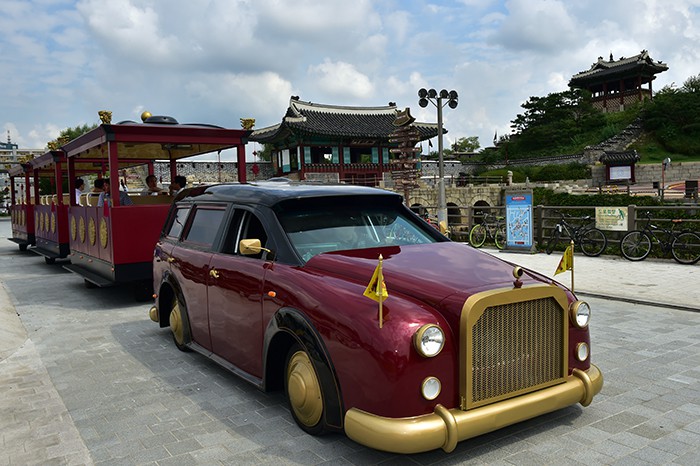 Visitors to the Suwon Hwaseong Fortress in Gyeonggi-do Province will be able to look around the historical site by hopping on a new tourist train that's pulled by a royal vehicle, or eocha (어차, 御車).
Suwon City will operate the new sightseeing train, dubbed the Hwaseong Eocha, starting in October this year. It replaces the existing dragon-shaped tourist train.
The new vehicle is purple, is wider on the inside than the older train, and is pulled by a purple engine shaped like a royal car. It can carry up to 44 passengers.
Each of the seats is equipped with an earphone jack so that visitors can listen to tourist information in Korean, English, Mandarin or Japanese. All the seats in the open-air train are heated, too, so as to warm the passengers on winter days.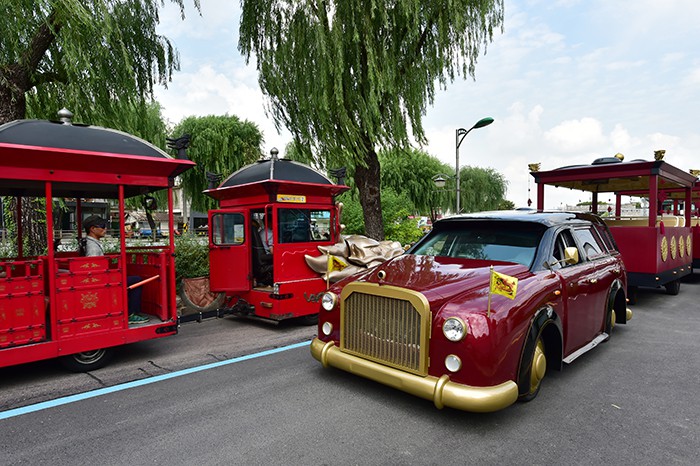 Suwon City will operate four new tourist trains starting in October 2016, after conducting free test-operations of the new vehicle this September. The new trains will run from 9 a.m. to 6 p.m. and travel along a 5.8-kilometer route that snakes between the Hwaseong Haenggung Palace, the Paldalmun Gate, the Jidonggyo Bridge, the Jidong Market and the Yeonmudae Post military tower. Unlike the old tourist train, banned from running on ordinary roads, the new vehicles can operate on two-way roads across the fortress.
Tickets for adults are KRW 3,000 and children are KRW 1,000. Passengers can get off and on the train anywhere along the route after looking around the various UNESCO sites scattered around the Hwaseong Fortress.
By Yoon Sojung
Korea.net Staff Writer
Photos: Suwon City
[email protected]