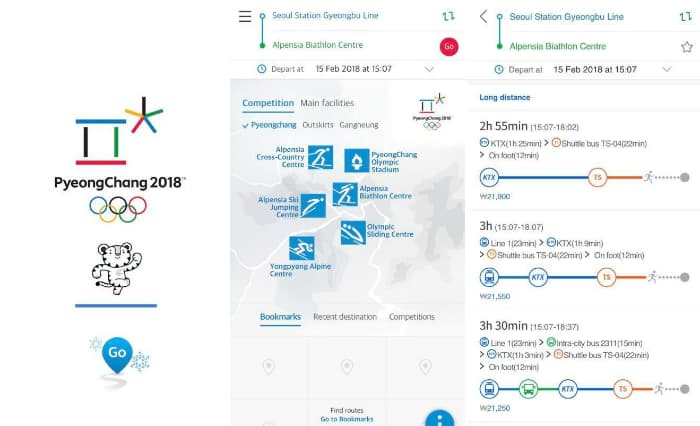 By Hur SomEe and Sohn JiAe
A mobile app is now on hand that offers the fastest and easiest way to get to PyeongChang Olympic venues in Pyeongchang, Gangneung and Jeongseon, the three host cities in Gangwon-do Province.
The official "Go PyeongChang" app for the PyeongChang 2018 Olympic and Paralympic Winter Games gives the distance, transportation options (bus, train or taxi), expected travel time and likely cost of your trip, from where ever you are to your Olympic venue of choice.
For example, if you type in "Seoul Station" in the search engine as your starting point, choose the "Alapensia Biathlon Center" image on the front page, and touch "Go," you'll get the fastest route to the biathlon venue. The app suggests that you take a KTX train to Jinbu Station in Pyeongchang and then get on the No. TS-04 Olympic shuttle bus that's available for free. It also shows a fare of KRW 21,900 and a travel time of around 2 h 28 m.
One of the best functions that this app has is the "Find a Stop Near Me" feature. The location-based service allows app users to find the nearest shuttle bus stop. With the expected time of a bus arrival on display, too, users don't need to wait shivering in the cold too long.
For those who drive to Olympic venues, they can use this app to check designated parking areas before they hop on a shuttle bus. There are four in Pyeongchang and Jeongseon, and three in Gangneung. Keep in mind that traffic is blocked in most areas around the host cities.
Touch the circular icon in the bottom of the app and you open the "My Ticket" feature. You scan the QR code on your physical Olympic ticket, and then the app will automatically read the code and suggest the best way to find your destination.
The app has so far garnered quite good reviews from users. One user named Kim Si-hyun wrote, "I was curious how I could get to the Olympic venue by public transportation. This app guideed me in a very simple and clear manner. I like it." Another user named Jo Young-ki said, "This app is so convenient and handy. I can get everything about the schedule of the Olympic games, as well as the way to reach Olympic venues. I think I'll continue to use the app after the Olympic Games!"