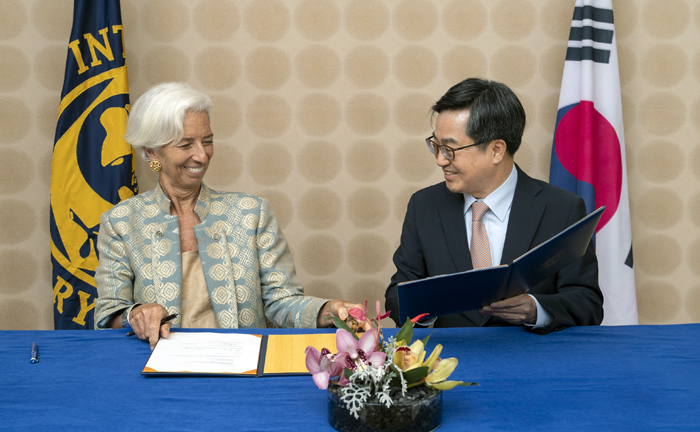 By Kim Eun-young and Yoon Sojung 
Deputy Prime Minister Kim Dong Yeon urged finance ministers and leading business leaders to play an active role in helping the development and market opening of the North Korean economy. He met the finance ministers of the G20 countries at the IMF and World Bank Annual Meetings 2018 Indonesia which took place in Bali where he also presented the policy direction of the risk factors of the world economy.
Deputy Prime Minister Kim, who also serves as the finance minister, met International Monetary Fund (IMF) Managing Director Christine Lagarde while in Bali. He told the IMF chief, "Military tension between the two Korea has been eased thanks to the three inter-Korean summits and the Singapore Summit between the United States and North Korea this year."
He also asked the IMF managing director to ensure that the IMF "play an active role in helping the North to carry out reforms and opening and to enter the international community."
In regard to economic development, North Korea needs to join the IMF in order to receive support from international financial organizations that support underdeveloped countries such as the World Bank or Asia Development Bank.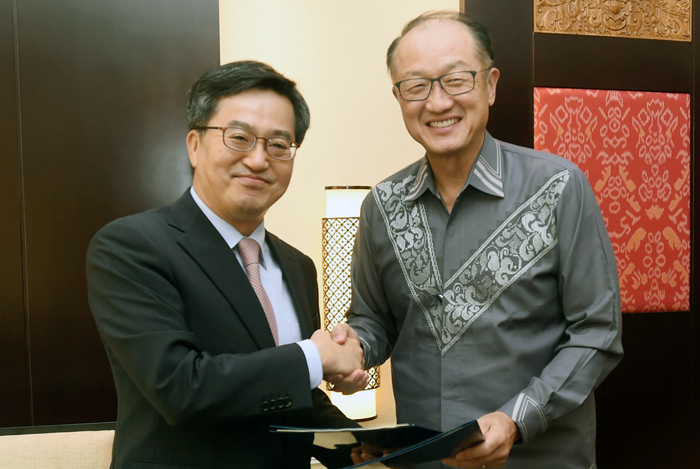 The finance minister made similar requests to World Bank President Jim Yong Kim. While meeting the World Bank chief, the deputy prime minister urged the World Bank to play a bigger part in supporting the development of North Korea at an appropriate time when sanctions or other circumstances related to the North improve, based on the consent of the international community.
On the same day, Kim told the IMF and World Bank annual meetings participants that the world needs to find out the root cause of risk factors of the world economy such as trade friction, monetary policy normalization of advanced countries, and capital outflow of emerging economies in order to better respond. In this regard, he presented three policy directions. He proposed that countries raise the capability to achieve economic growth and the soundness of growth in order to achieve growth of balance and harmony, based on cooperation and inclusiveness among member countries as the key to resolving such risks.
Prior to the annual meetings, Deputy Prime Minister Kim also met senior-level personnel of international credit rating agencies–Fitch and Standard & Poor's–on Oct. 12 and 13. Kim told the Fitch and Standard & Poor's personnel that, "Inter-Korean economic development can offer an opportunity to widen the growth potential of the Korean economy, and the government will carry out inter-Korean cooperation in close cooperation with the international community in a calm and orderly manner."
Kim also expressed Seoul's will to actively share all issues regarding inter-Korean relations, while urging the meeting attendees to fully reflect on the positive aspects of the Korean economy in the sovereign credit rating.