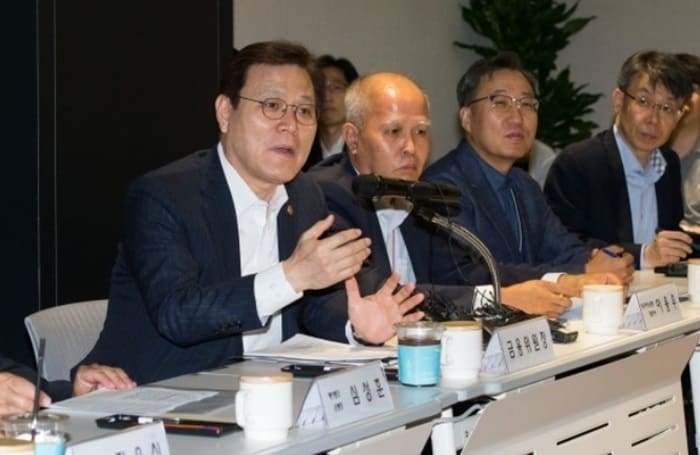 By Kim Eun-young and Kim Young Shin 
Financial authorities pledged to improve regulations to help strengthen cooperation between direct or internet-only banks and financial-technology or "fintech" corporations, during a meeting held among fintech leaders at the Kakao Bank headquarters in Seongnam-si, Gyeonggi-do Province, on July 23.
"It is necessary to redesign the support and restriction system for fintech corporations through continuous communication and cooperation between fintech companies and the government," said Financial Services Commission Chairman Choi JongKu.
"Cooperation between internet-only banks and fintech companies is becoming tangible, as you can see from online transactions without certificate verification, 24-hour banking, and app-to-app payments," said the chairman. "We will devise the ways to support the fintech industry by easing restrictions on improving system and financial support, and on helping with international expansion."
"Internet-only banks, such as Kakao Bank and K Bank, have been providing convenient services through innovative financial technology over the past year," said Choi. "Please keep up with your active role as pioneers and as pivots in the fintech industry."
The meeting was attended by leaders of internet-only banks and fintech corporations, as well as Fintech Center Chairman Jung Yooshin.
eykim86@korea.kr