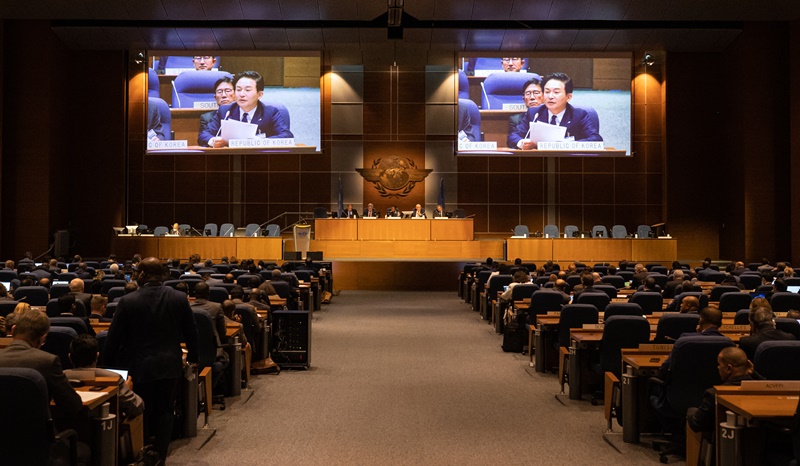 By Lee Kyoung Mi
Korea has earned its eighth straight term on the governing council of the International Civil Aviation Organization (ICAO).
At the 41st ICAO Assembly in Montreal, Canada on Oct. 4, Korea earned another three-year term, the Ministry of Land, Infrastructure and Transport and Ministry of Foreign Affairs said on Oct. 5.
Established in 1947, ICAO is a United Nations affiliate that supports systematic development in international private aviation, deciding on policy and global standards such as for aircraft manufacturing, transportation and control and playing a role in setting guidelines to implement its decisions.
The ICAO Assembly, held every three years, gathers the 36 countries on the council. As the de facto decision-making body of the organization, the council has the legislative, judicial and administrative powers to decide and oversee the implementation of aviation policies agreed on at the assembly, adopt new or revise international aviation standards, and arbitrate and mediate disputes in the sector.
The assembly selects council members in the following categories: Part 1 (countries of chief importance in air transportation); Part 2 (those not otherwise included but that make the largest contributions to the provision of facilities for international civil air navigation); and Part 3 (those not otherwise included but whose designation ensures that all major geographic areas of the world are represented on the council).
After their election, council members perform their duties regardless of category.
As one of 175 countries in Part 3, Korea won 151 votes to earn reelection to the council, along with the United Arab Emirates (161), Ethiopia (154), Ghana (150) and Jamaica (149).
Since first joining the council in 2001, Korea has actively played a role as a member by providing free education and training in aviation to developing countries and dispatching experts to the council. Seoul will also participate in the digital transition project to modernize the ICAO administrative system.
The government said, "Thanks to Korea's eighth term on the council, we could reaffirm the recognition and trust of ICAO council member countries in Korea's contributions to the development of the international private aviation sector," adding, "We will continue supporting the improvement of global aviation safety and security and actively take part in ICAO-level efforts such as decarbonization of the aviation sector and preparation of global standards related to cutting-edge aviation technology."
km137426@korea.kr