Two displays of artworks from the private collection of the late Samsung Group Chairman Lee Kun-hee are being called the "exhibitions of the century" for featuring masterpieces shown in textbooks. Both events were opened on July 21 at the National Museum of Modern and Contemporary Art, Seoul (MMCA) and the National Museum of Korea (NMK), both in the capital.
The NMK is featuring 45 works spanning some 77 pieces from the collection, including 12 national treasures and 16 others designated by the government from a variety of historical periods and disciplines. The MMCA is displaying 58 pieces by 34 significant Korean artists including Kim Whanki, Lee Jungseop and Park Soo-keun.
Though all of the featured works are art treasures, the following are five can't-miss Korean works displayed at the MMCA. Park Mi-hwa, a manager of the MMCA's contemporary art department, on July 20 gave her insights on the five at a media tour hosted by her museum.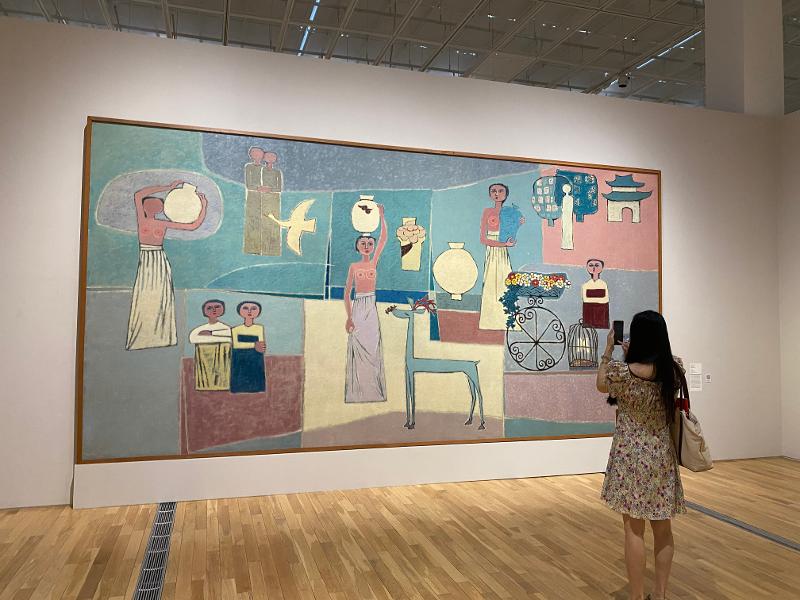 By Joung Haseung
Seoul
Photos = National Museum of Modern and Contemporary Art
Kim Whanki's "Women and Jars" (1950s)
"Women and Jars," a work by Kim Whanki (1913-74) and one of the highlights of the exhibition "MMCA Lee Kun-hee Collection Masterpieces of Korean Art," is featured on the event's official poster.
Measuring 567 cm by 282 cm, the work features many of the motifs frequently used by Kim, including half-dressed women carrying jars on their heads or in their arms, porcelain urns, a crane, a deer and a bird cage. The natural asymmetrical lines and the rough approach to the color field offer an excellent illustration of the aesthetic characteristics that Kim produced during this period.
One of Korea's pioneers in abstract art, Kim from 1933-36 studied in Japan at Nihon University's art and research division. After Korea's liberation from Japanese colonial rule, he often painted natural landscapes imbued with traditional Korean symbols such as the moon, mountains, clouds and cranes to grow in prominence as an artist who modernized traditional beauty. He also worked in Paris and New York, the latter in which he mastered his signature "dot technique" and earned recognition as a Korean pioneer of abstract art.
Baik Namsoon "Paradise" (circa 1936)
"Paradise" by Baik Namsoon (1904-94) is the first piece visible upon entering the museum's exhibition hall. Initially given to the artist's friend Min Young-soon as a wedding gift, the work has an exterior structure of a landscape folding screen but drawn in oil on a canvas. Its technique and content are considered a unique case study of the convergence of East and West.
Min privately held on to "Paradise" until it was introduced to the world in 1981. The work got its official title under an agreement between Baik and art critic Lee Gu-yeol. The piece remains the artist's only surviving artwork before national liberation.
A contemporary artist who in 1923 entered Japan's Tokyo Women's Art School (now Joshibi University of Art and Design) to study Western painting, Baik later worked in Paris. After 1931, she served as a teacher at Osan High School in Jeongju, Pyeonganbuk-do Province, in present-day North Korea with her husband Lim Yong-ryeon, who graduated from Yale University in the U.S.
At the time, she focused on teaching students such as Lee Jung-seop, who later become nationally recognized as the "the people's artist." After the death of Baik's husband, she immigrated to the U.S. and lived in New York until her death.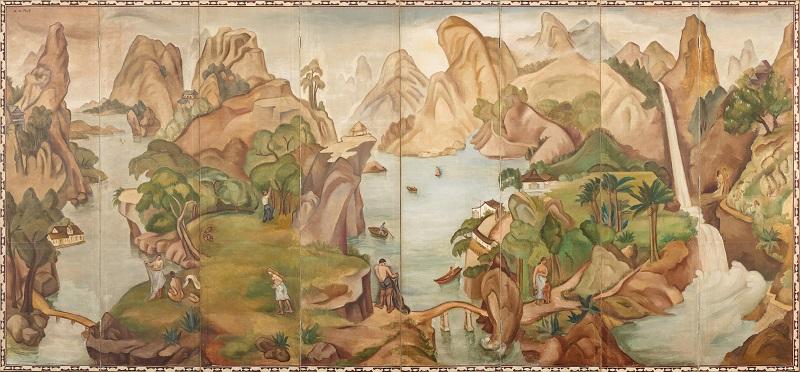 Lee Sangbeom's "Peach Blossom Spring" (1922)
Across from "Paradise" hangs "Peach Blossom Spring" by Lee Sangbeom (1897-1971). Opened to public display for the first time in 100 years, "Peach Blossom Spring," painted on a 10-pan folding screen, was directly inspired by "Chungroksansuhwa" by Joseon Dynasty painter An Jung-sik, who was Lee's teacher. The script "Cheongjeonmureungdowon" written behind the work's first screen shows that Lee painted Chinese poet Tao Yuanming's fable "Dohwawongi," (The Peach Blossom Spring) which represents the Eastern ideal of utopia.
A native of Gongju, Chungcheongnam-do Province, Lee was one of the nation's leading painters of contemporary landscapes. Due to his family's financial hardship, he dropped out of middle school and attended Seohwa Art Academy, which had free admission. After graduating in 1917, he studied art under An.
Lee was later sentenced to prison while working at the daily Dong-A Ilbo for his involvement in the 1936 incident in which the newspaper altered a photo of Olympic marathoner Sohn Kee-chung, who won the gold medal in the event that year, to remove the Japanese flag from his uniform.

Lee Jungseop's "Bull" (1950s)
Dubbed "the people's painter," Lee Jungseop (1916-56) enjoyed painting the bull, an animal that in Korea has traditionally symbolized patience and endurance, from his days as a student in Japan. He drew bulls more frequently as Korea was liberated and the Korean War broke out. Particularly after the war, he made an intense red bull one of his main subjects. "Bull" is set against a powerful red background, with the creature appearing solemn and grave with the furrows it bears from the vicissitudes of life.
Four of Lee's surviving works show the heads of red bulls; this one first rose to prominence in 1976. While it was reprinted in a collection of Lee's paintings published in 1990 by Kumsung, "Bull" was rarely exhibited in the past. It is now part of the MMCA display of the Lee Kun-hee collection.
Lee Jungseop encountered Western painting at Osan High School through painters Baik and Lim Yongryeon. In 1936, Lee went to Japan to study art at the Imperial Arts School and Bunka Gakuen University, with his most frequent subjects being bulls, chickens and family. He died in 1956 at age 40.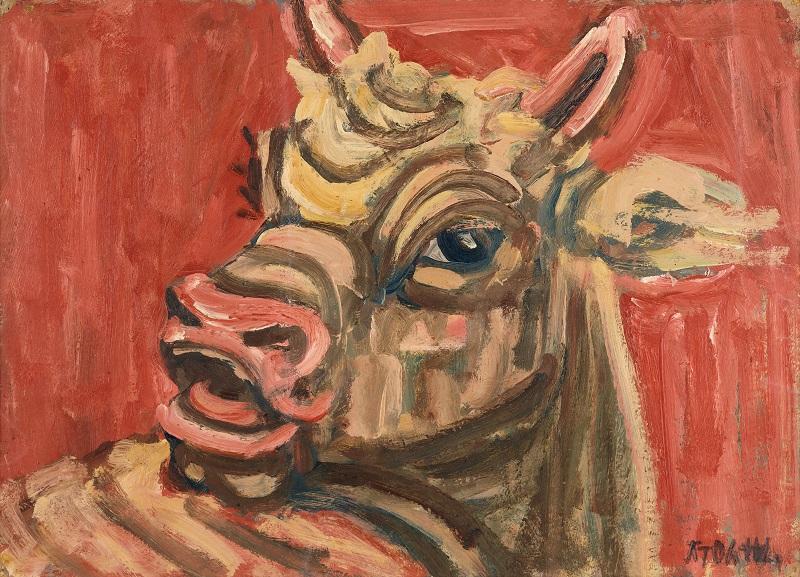 Chang Uc-chin's "Jacks" (1938)
Chang Uc-chin (1918-90) painted "Jacks" at age 20. While attending Yangjeong High School, he received the Sajang (President) Award, the highest honor at the second National Student Art Exhibition hosted by the daily Chosun Ilbo.
As one of Chang's leading early works, "Jacks" depicts women waiting for their families while playing against the backdrop of his home in Seoul's Naesu-dong neighborhood. While he omitted details like facial features, he accurately expressed each subject's posture and movements. This piece also showcased his signature painting style of filling the entire canvas.
Born into a wealthy family in Yeongi-gun County, Chungcheongnam-do Province, Chang focused on painting in art class as a special activity at Gyeongseong No. 2 High School. After graduating in 1943 from Teikoku Art School (now Musashino Art School) in Japan, he returned to Korea and grew interested in traditional art and introduced literary, folk and mural drawings in his works.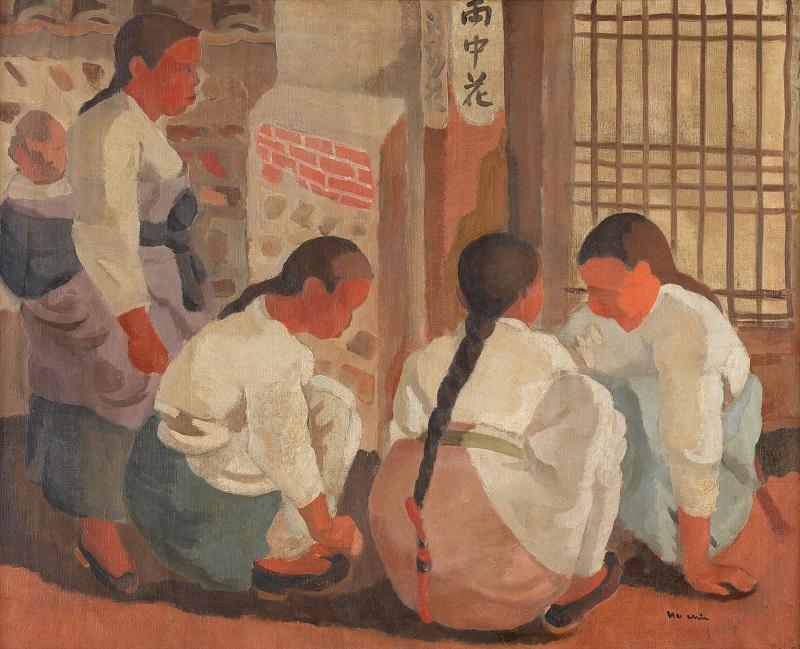 The MMCA exhibition runs through March 13 next year. Admission is free but reservations are required.
The exhibition is open from 10 a.m. to 6 p.m. on Tuesdays, Thursdays, Fridays and Sundays and until 9 p.m. on Wednesdays and Saturdays; the museum is closed Mondays. Due to COVID-19, visitor capacity is limited to 30 people per session, fueling a "reservation war." Tuesdays, Thursdays, Fridays and Sundays each have a maximum of eight sessions per day and Wednesdays and Saturdays 11 each.
The MMCA opened reservations on July 12 but as of 2 p.m. on July 22, all tickets were booked through Aug. 5.
More information on reservations is available on the MMCA's official ticketing website: https://www.kguide.kr/mmca001/0102/).