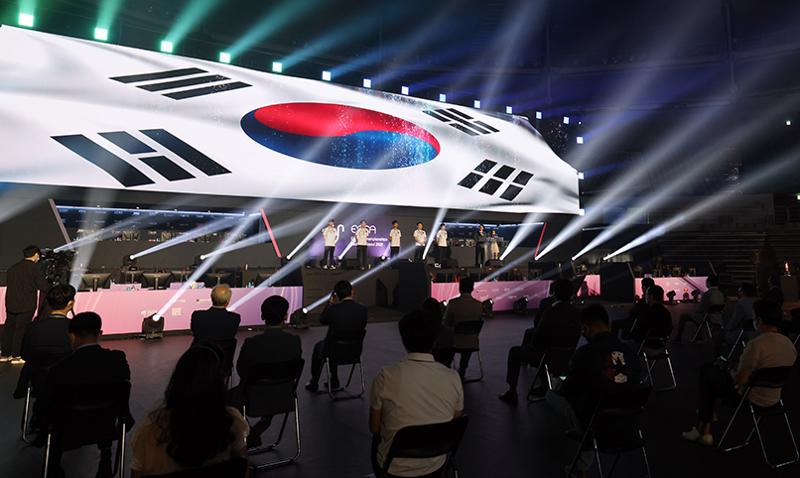 By Lee Jihae
The inaugural Esports Championships East Asia 2021 & Game Culture Festival opened on Sept. 10 for a three-day run at the handball stadium of Olympic Park in Seoul's Songpa-gu District.
The event is the first of its kind jointly hosted by the Korean, Chinese and Japanese governments.
The purpose of the festival is to set up a system for national players from each country in the wake of the adoption of e-sports as an official event at next year's Asian Games in Hangzhou, China.
This annual competition will see its venue rotate every year among the three countries, with next year's host to be China.
A combined 130 players from the three countries are playing in this year's competition.
The first game between Korea and Japan began at 10 a.m. in the event "Classy Royale." Players from the three countries through Sept. 12 will compete in five events including "League of Legend," "Battleground," "eFootball PES 2021" and "Dungeon Fighter Online. "
From Sept. 10-11, the three countries will vie in the preliminaries, with two to advance to the finals on Sept. 12. The nation that wins the best-of-five series in each event wins, and the overall winner is selected by adding up the scores according to each event's rankings.
The games are broadcast in Korean on Naver (game.naver.com/esports), English on Twitch twitch.tv/kespaen and YouTube (youtube.com/kespa), Japanese on YouTube (youtube.com/channel/UC1nodVlgA-5O0ZhngDJcZew) and Chinese on Huya TV (huya.com).
Hosted by the Ministry of Culture, Sports and Tourism, the competition is organized by the event's organizing committee, Korea e-Sports Association and Korea Creative Content Agency.