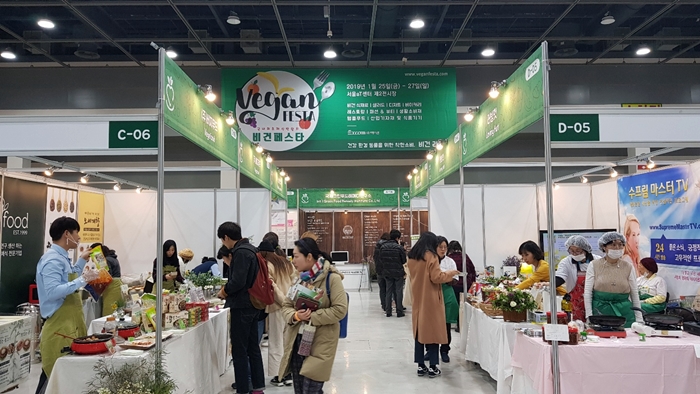 By Kim Hyelin and Kim Minji
Photos = Kim Hyelin
Visitors at a food exhibition in Seoul were drawn by the appetizing smell of bulgogi (marinated stir-fried beef) and roasted beef patties. They were surprised to hear that the attractive aromas were from vegan foods.
At Korea's inaugural Vegan Festa, held from Jan. 25-27 in aT Center in Seoul, booths featured a variety of foods containing no animal ingredients such as soy meat with its texture reproduced with soy protein, kimchi without jeotgal (salted seafood), vegetable milk, and various desserts and sauces.
The purpose of the event was to allow vegan businesses to expand and promote the industry in Korea. Visitors got to experience and taste a range of vegan foods in the country's first exhibition of vegan products including food, fashion, and beauty and consumer goods.
A combined 114 companies and organizations took part in the event including Greenpeace, VegeWave magazine, the Korean Animal Communicator Association and the Korea Agency of Vegan Certification and Services.
"The growing number of foreign residents in Korea familiar with vegan food and rising Korean interest in health have led to soaring demand for vegan food," said Kim Jenny, executive vice president of the health and bio-food company J.Young Healthcare.
Kim Young-In, an executive manager at the vegan certification agency, said, "Veganism has emerged as a mega-global trend, with the Economist magazine designating 2019 as the Year of Vegan in its section 'The World in 2019.' Many businesses are trying to obtain vegan certification, and our goal is to have 1,000 companies certified this year."
The event also featured vegan cooking classes, pet food demonstrations, a certification presentation, lectures on the nutritional and pharmaceutical benefits of vegetables, and interactive programs like making vegan kimchi.
"I wanted to see various vegan products at the event and saw a lot of tasty foods today," said Cha Ji-yeon, who has been a vegan for a year and a half.
Lee Chang-ho, director of the event's hosting agency Excom International, said, "Despite being the country's first for vegan food, the Vegan Festa attracted 14,700 visitors. The second Vegan Festa will open in July and the event will then be held annually."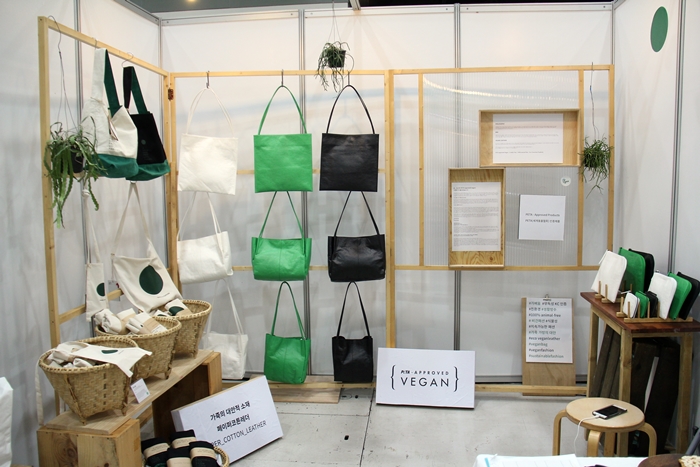 kimhyelin211@korea.kr