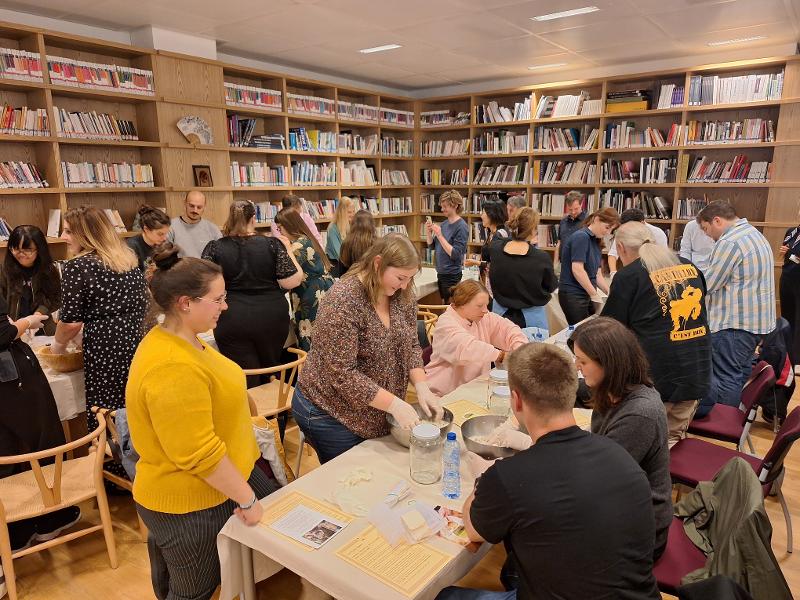 By Lee Dasom
Photos = Korean Cultural Center in Belgium

An event in Brussels has had locals make and taste Korea's milky rice wine makgeolli.

The Korean Cultural Center in the Belgian capital on Sept. 25 said around 30 people attended the program on making and tasting makgeolli.

The participants listened to explanations of makgeolli by expert Yun Na-ra as they kneaded dough with nuruk (fermentation starter) in it and made the wine.

"Anywhere in the world, you can make traditional makgeolli by making nuruk with a region's wheat or barley and adding rice and water to it," Yoon said. She also explained the process of making makgeolli starting with the principles of basic fermentation techniques.
"I first drank makgeolli while visiting Korea last year and still enjoy it after returning to Belgium," participant Martine said. "I'm now glad that I can directly make it."

Another participant Joanne said, "When I think of makgeolli, I remember happy moments," adding, "I look forward to enjoying the makgeolli I make with friends."

The day before, the KCC held an event comparing the processes of making Korean and Belgian traditional alcoholic beverages and explained the makgeolli making process to brewing representatives there.